Nestled along the beautiful shores of the Costa del Sol in southern Spain, Marbella shines as a true gem in this sun-kissed region. Renowned for its luxurious lifestyle, pristine beaches, exquisite dining, and vibrant nightlife, Marbella has become a playground for the rich and famous. In this article, we will delve into the allure of Marbella, exploring its rich history, stunning natural beauty, world-class amenities, and the irresistible charm that makes it a must-visit destination for travelers from around the globe.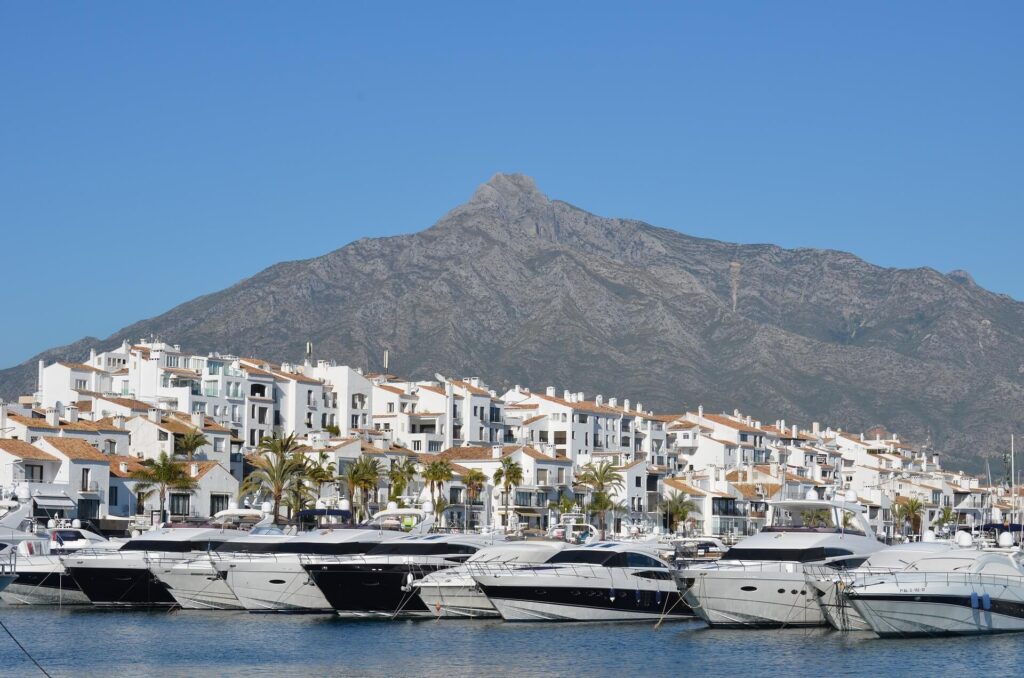 A History of Elegance
Marbella's history dates back thousands of years, with evidence of human settlement found in the area since the Paleolithic era. The city's rich past includes Phoenician, Roman, and Moorish influences, evident in its architecture, narrow streets, and ancient ruins. The famous Old Town, with its whitewashed buildings, charming squares, and picturesque orange trees, offers a glimpse into Marbella's historical legacy.
Sun, Sand, and Serenity
Marbella's beaches are legendary, stretching for miles along the Mediterranean coastline. With their golden sands, crystal-clear waters, and palm-fringed promenades, they provide the perfect backdrop for relaxation and leisure. From the exclusive Nikki Beach to the family-friendly Playa Fontanilla, Marbella offers a beach experience to suit every taste.
Glamour and Luxury
Marbella has long been associated with glamour and luxury, attracting high-profile visitors and celebrities from around the world. Puerto Banús, the city's iconic marina, is a playground for luxury yachts, high-end boutiques, and gourmet restaurants. Strolling along its glamorous promenade, lined with designer stores and upscale bars, is a quintessential Marbella experience.
Gastronomic Delights
Marbella is a paradise for food lovers, boasting an impressive culinary scene that caters to every palate. From traditional Spanish tapas to international cuisine, the city's restaurants offer a wide range of gastronomic delights. Michelin-starred establishments such as Dani García's eponymous restaurant and Skina showcase the region's finest ingredients and innovative flavors.
Golfers' Paradise
With over 15 golf courses in and around the city, Marbella has earned its reputation as a golfer's paradise. The Costa del Sol is often referred to as the "Costa del Golf," and Marbella is at the heart of this golfing haven. From championship courses like Valderrama to scenic gems like Los Naranjos, golf enthusiasts can enjoy the perfect blend of challenging fairways and breathtaking views.
Cultural Treasures
Marbella is not just about glitz and glamour; it also offers a rich cultural experience. The Bonsai Museum, housed in a beautiful Andalusian building, showcases an impressive collection of bonsai trees from around the world. The Contemporary Spanish Engraving Museum, located in the Old Town, presents a fascinating display of contemporary printmaking.
Natural Wonders
Beyond its pristine beaches and luxurious resorts, Marbella boasts stunning natural landscapes. The Sierra de las Nieves Natural Park, a UNESCO Biosphere Reserve, is a haven for hikers and nature enthusiasts. The La Concha mountain, which stands at 1215 meters high proudly behind the city, offers breathtaking panoramic views of the coastline and beyond.
Festivals and Events in Marbella
Marbella comes alive with festivals and events throughout the year. The Starlite Festival, held during the summer months, attracts internationally renowned artists for unforgettable concerts under the stars. The Marbella International Film Festival showcases the best in independent cinema, drawing filmmakers and cinephiles from around the world.
Shopping Extravaganza
Marbella is a shopper's paradise, offering a wide array of boutiques, designer stores, and local markets. The Golden Mile, a stretch of luxury shops and brands, is a haven for fashion enthusiasts. The Old Town's quaint streets are filled with charming boutiques and artisanal shops, where you can find unique souvenirs and local crafts.
Endless Entertainment
When the sun goes down, Marbella's nightlife comes alive. From chic beach clubs and rooftop bars to lively nightclubs, the city offers a vibrant and diverse entertainment scene. Whether you prefer a relaxed evening sipping cocktails by the sea or dancing until the early hours, Marbella has something for everyone.
Conclusion
Marbella's allure as the glittering jewel of the Costa del Sol is undeniable. Its captivating blend of history, natural beauty, luxurious amenities, and vibrant atmosphere creates an irresistible destination for travelers seeking a taste of the high life. Whether you're looking for relaxation, adventure, gastronomy, or cultural experiences, Marbella is sure to leave a lasting impression and fulfill every traveler's desire for a truly unforgettable holiday.