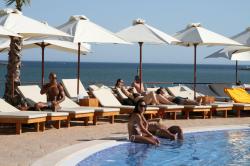 Beachclubs became more and more popular in the last years. An absolutely exclusive Beachclub is the Nikki Beach. It is not only a simple Beachclub, but rather the most exclusive chain of Beachclubs at the best beaches of the world. People who go there should dress up in white to keep a low profile. The Beachchlubs are amongst others in Spain in Marbella at the Don Carlos Beach Resort in Elviria, in Portugal in Portimao, as well as in Saint Tropez, Cabo San Lucas, Miami, Puerto Vallarta and New York.
The Beachclubs offer hammocks, sofas and cosy beds directly in the sand or at the additional pool, playing relaxing chillout or house music until late into the night. In addition there is a special VIP zone, as well as a restaurant. The Beachclubs are primarily known for its regular champagne parties. Nikki Beach offers amongst others its own music, clothes, hotels and shortly also their first cruise ship. Normally you can also get a massage directly on the cosy beds.
The pictures shown here show the Nikki Beach in Portimao in the Algarve in Portugal. Beautiful sand beaches like in the carribean combined with a fascinating view to the rock coast of the Algarve as well as the largest yachts, which drive past on the way to the port of Portimao.