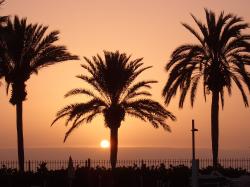 Maybe you havn't been here in Spain so now is the perfect time to have a look for some flights and plan your holidays to Spain. In September the weather is perfect to enjoy the sun on the beach, but it is not to hot for all the people who are not used to be in the sun for long time. The average temperature for Malaga is 23,5°C so quite nice.
In September everything is cheaper, like the hotels and the flights and everything else and there are less people. With Malaga you have a big airport around here which is now being extended, so it´s time to plan your holidays to the Costa del Sol. On the Costa del Sol you will find everything from budget to luxury, from Golf courses to boat trips, from bull fighting to football, from Vino Tinto to Paella, from palm trees to beach. 
The Costa del Sol is the Sunshine Coast with more than 300 days of sunshine each year. So enough time to enjoy the nice weather. The main resorts on the Costa del Sol are Torremolinos, Marbella, Torrox, Nerja and of course the well known Puerto Banus and all of them are worth a visit. Take the next flight and come on over to Spain.