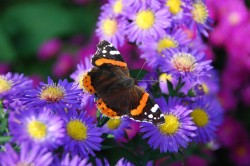 The Town Hall of Benalmádena has announced that Europe's biggest butterfly park will open early next year in the town. The Mayor of Benalmádena, Enrique Moya, says the Asian-inspired complex, which is a 1,500 square metre site, will house "some of the world's most spectacular and endangered species of butterfly".
The local administration has said that it believes that the butterfly park will become a major tourist attraction, as well as a possible research facility in the future.
The complex is situated next to the town's famous Buddhist temple, known as "La Estupa", which is located on the outskirts of Benalmádena.
The largest butterfly park in the world is still "Butterfly World" which is located in Florida, USA. It opened in 1988 and the aviary houses over 10,000 butterflies of up to 150 different species.
You may be surprised to learn that the average life span of a butterfly is only fourteen days, and that's in "captivity" in the aviary. This average life span compares to about seven days in the wild. However, some species like the Zebra can live for up to ten months.