The variety of olives produced in Spain is combined with the great variety of existing microclimates throughout the country to produce an extensive variety of oils. There is no better place to start than Jaén if you want to learn about Spanish olive oil. Within a radius of just 50 kilometres of the city, you will find companies and co-operatives where you can find out about how this "liquid gold" is produced. The ideal time to visit one of these plants is between November and February, during the olive harvest, when you can also enjoy the traditional gatherings and gastronomic festivals. And, if you get the chance, don't miss the Olive Festival in Martos on 8 December, when they give out the typical "joyo" (bread smeared with oil and topped with cod and olives).
"Olive oil cures all ills" is an old Spanish saying which has special significance in Jaén, the country's largest olive-oil pr oducing region. InSpain olive oil is more than simply a fashionable, healthy cooking ingredient, and in Jaén it has been integral to survival and the local way of life for centuries. Olives dominate the landscape with uninterruptedmar de olivas, or sea of olives – some 60 million groves – flowing over the horizon in every direction. It's a heritage which, unsurprisingly perhaps, the region is now beginning to market, albeit slowly.
It's a pretty well-known fact that southern Europe leads the world in growing olives and processing their liquid gold—olive oil. But most people don't know that the province of Jaén accounts for half of Andalucía's olive oil production, a third of Spain's, and a tenth of the entire world's—whoa! This isn't hard to believe, though, because almost every square inch of land outside the cities and natural parks is covered in unending, pointillist rows of olive groves.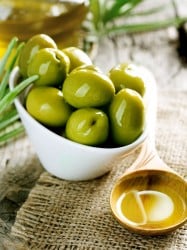 The process is quite impressive.  After the ol ives are harvested, they're dumped into huge chutes, cleaned, and squeezed to release their raw juices, which are then separated and bottled as extra virgin olive oil. Tours are available but you'll have to call or email ahead, but exploring any of the province's co-ops would be on par with touring a vineyard.  Here are some recommended ones:
Sierra Mágina: a family run olive oil producer were exhibiting two interesting extra virgin organic olive oils. The "Ecologico" (small bottle) is produced by first removing the stone from the olive before pressing it for the oil. This makes the oil smoother and equally interesting, less bitter. This is a very labour intensive process dating back to the Roman times. The EXTRA VIRGIN OLIVE oil (long bottle) is produced from mature olives that are picked directly from the tree and not after they fall to the ground. This makes the oil very strong in flavour but also removes any bitterness in taste that might be caused b y over ripe olives. Sebastian Ortega is the son of the owners of the company. (www.fincaalamillosdelprior.com)
La Marteña: Named in honour of the town of Martos (Tucci Ibera) where it is claimed was the first place in the world where olive oil was produced. This extra virgin olive oil is made from a single type olive. (www.lamarteña.es)
Oliver: Oliver Petit Gourmet is an original idea from Comova/Monva company of bottling olive oil in a squirting bottle for children. The squirting mechanism dispenses 2ml of Extra Virgin Olive Oil and lots of fun for children. The olive oils by this company are certified by the British Retail Consortium. (www.oliverpetitgourmet.es)
Padilla Oliva: who are from Bailen (Jaén) is another small olive oil producer using olives grown in their own olive groves. And although the company tries to sell their oils throughout Spain their limited production means that they have to use mail order to reach a lot of their lo yal customers.(www.aceitespadilla.com)