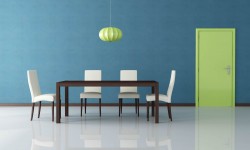 Home Staging is a new real estate sales strategy for the Costa del Sol. It originally came from the USA, a pioneer in marketing, but is now increasingly important in Europe. In Sweden alone, statistics show that 80% of homes are sold through Home Staging. Germany and other European countries have also recognized the advantages of the immaculate presentation of real estate and in northern Spain home staging has significantly influences the sales opportunities.
HOME STAGING MARBELLA builds on these successes and now also offers us on the Costa del Sol the possibility to sell property quickly and profitably.
How did this happen?
"Not too long ago, when I visited a friend in Barcelona who had been trying to sell her house for years, I was already geared up to hear the same old tale of woe. But that was not the case, she told me happily that she had sold her house and even got the original asking price."
Petra Ten Eiken, one of the founders of Home Staging Marbella, smiles as she tells us this story, when we want to know how it came about. "I myself had never heard of home staging." continues Petra, " and when she told me with how few resources the home staging company transformed her house into an attractive sale object, I was very sceptical. But she showed me her before and after pictures and I realized that this indeed was a question of very simple measures, but these were used very well thought out and targeted. " She sold her house in only three weeks!
Meanwhile, Petra has completed her own home staging training and together with her business partner, Johanna Mayrhofer, she uses this recipe of success now on the Costa del Sol. Johanna brings with her many years of experience in sales and understands the importance of a perfect presentation.
"Due to the oversupply of real estate here on the Costa del Sol, we see the absolute need of highlighting a property for sale or rent, in order to secure a proven and safe advantage in the buyer's market," was Johanna,s answer to our question, as to whether there is a market at all here on the Costa del Sol, in this time of crisis. "Sales happen differently today than 10 years ago. Presentation is everything. It's not much different than a car sale, or when preparing for an important business meeting or a job interview. By optimal presentation on the sales scenery. "
How does it work, what exactly happens when Marbella Home Staging stages a property?
"We see the object as our project," says Petra. "First, we eliminate clutter and chaos, because that deters a potential buyer from the beginning. Also from the garden, garage and entrance, everything unnecessary will be removed. The important thing is that the visitor feels comfortable. Then we create space and clarity with simple measures such as light and colour, with a few strategically placed items of furniture and decorative objects. Home staging inspires the imagination of the potential buyer, he can imagine what his future home would look like.
The art of home staging is to meet the tastes of the masses. Personal taste is very different and should only be encouraged here, but never executed. Above all, we use the power of the first impressions, because that is the most important one, it remains in the memory and provides a unique opportunity. Every room and every corner of the property is included and that results in a total harmony. Advantages and characteristics of the property will be highlighted and the living space appears larger.
Can someone who has, for example, only a small apartment for sale, actually afford home staging?
"Home staging is an investment, which flares up one hundred percent!", Johanna says enthusiastically. "It saves the seller time and above all he can sell the property at a fair price and avoid discounts. Once a potential buyer has fallen in love with the property, the rest is just a formality. Our measures are comparatively cheap, because the best solution is not the most expensive one, we realize that someone who wants to sell his property does not want to invest much more in it. The numbers speak for themselves, this concept works and has achieved resounding success in many countries. Since our formation we have been in a network of International Home Staging and thus always get the latest from this sector, the results are fantastic. Especially in difficult times, methods that increase the sales opportunities considerably, pay for themselves."
"And we offer interested parties a free, no obligation quote," adds Petra.
Can you tell us a few tips for home sellers?
"Willingly," said Petra. "But it's not just a matter of cleaning up and painting, home staging takes a lot of knowledge on sales psychology. But some things are immutable for each house sale, especially in still occupied properties, make sure that:
the windows are clean
you don't cook before an inspection date
the rooms are freshly lifted
all the clothes are put away
there is nothing on the floor or on chairs
all the cabinets are closed
put some washing powder in your vacuum cleaner before you clean the floor, leaving a fresh smell
bring pets to friends. All traces of animals should be removed
remove religious or political symbols, paraphernalia, etc., pictures of your family.
Remember, you are selling a property and not your home "
www.homestagingmarbella.com