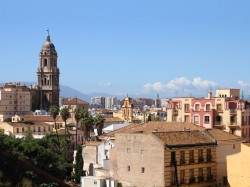 Many people fly into Malaga on various holidays around the Costa Del Sol. However, it is also a fantastic holiday destination in its own right; steeped in history, surrounded by beauty and a melting pot of festivals, nightlife, bars and beaches.
Malaga is a popular destination for holidaymakers with trendy hotels making the cosmopolitan city a perfect base for visiting different parts of the Costa del Sol. Its central location between Torremolinos, Nerja, Mijas and Marbella, to name just a few highlights, means that with handy Malaga car hire you can be in another of the coast's beautiful cities within an hour or so.
Holiday Autos has a special sale on right now, offering customers the chance to save up to 20% on car hire in selected summer destinations for any duration; just book before 6th June 2012 for picks-ups until 30th June 2012. To take advantage of this discount, book today and arrange your holiday transport while at the same time saving some money for whatever you want to spend it on – if you're going to Malaga then cervezas and tapas are a must!
There are a multitude of tapas bars and restaurants in Malaga ranging from Michelin star to hearty, comfort food – whatever your budget you'll find great food. Malaga also has more museums than any other city in Andalucia – whether your interest lies in wine or art!
There's so much to see in Malaga that car hire is a good way of ensuring you don't miss anything – starting off in Malaga itself before you start exploring, the birthplace of Picasso has many delights. Malaga cathedral is a must-see, originating from 16th-18th centuries and containing stunning sculptures. The creation of the cathedral sadly remained unfinished, but this only adds to its charm – and It even has another attraction within its walls, as it has its own museum inside.
A monument to Picasso, Plaza de la Merced (Casa Natal de Picasso) is a walking plaza which was once home to the famous artist and is something every visitor to Malaga should see. It's a very picturesque spot filled with cafes and breathing art through the exhibitions held which can be viewed whilst enjoying a refreshing drink in the square. It is also surrounded by the Roman Theatre and Alcazaba, an Arabian fort which are well placed for squeezing in some more sightseeing.
Enjoy Holiday Auto's car hire in malaga offer and you can visit the nearby glamour and excitement of Marbella, the more family-oriented resort of Nerja or even travel further afield. The Costa del Sol is blessed with beautiful sunshine and is best enjoyed on some of Spain's best beaches – so hop in the car and find your own favourite during your holiday.
For more information and a full list of holiday locations in the Holiday Autos sale, visit http://www.holidayautos.co.uk