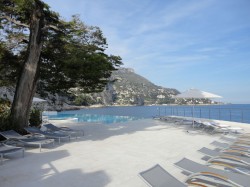 Rolls-Royce invited me to a special event to see their new car, the Rolls-Royce Phantom Series II to write an article about it for another blog of mine. The event took place in one of the best hotels on the Cote d'Azur in south France, private and very exclusive with a long tradition, same like Rolls-Royce itself, the hotel is called Cap Estel and overlooks the Mediterranean.
Arriving at the airport I had a chauffeur waiting for me with a Rolls-Royce Ghost who brought me to the hotel. At the hotel a team from Rolls-Royce was waiting for me and explained me different details about the Rolls-Royce Phantom Series II. They explained me how they create the interior. The veneer and leather works are all handcrafted, as well the two small lines on the side of the car are painted by hand by only one person. A quality that you can see and feel. The previous car was nine years, but they couldn't find much to enhance, as the car was already perfect. So only a few small amendments have been made to the already perfect car. One of the biggest changes is the new navigation system and the 8.8″ screen which shows the surround cameras. 

A chauffeured drive along the coast between Nice and Monaco showed me how nice the car is and relaxing. In comfortable leather seats with a fluffy carpet you enjoy the ride along the road. The Harman Kardon Sound System makes you finally feel like home or in a concert hall.
After all this presentation of a 400.000 Euro super exclusive car I had time to explore the exclusive and elegant hotel Cap Estel. There are only 18 rooms and my suite was very nice and huge. Prices of the suite were around 2.000 Euro, so you can imagine how nice it was. The hotel has everything to offer, from spa, infinity pool with views along the Mediterranean, private beach or a tennis course. Only the driveway to the hotel was a few hundred meters and very small for the huge Rolls-Royce.
It was a pleasure to see Nice and the Cote d'Azur again after 10 years and to have a closer look a the Rolls-Royce Phantom Series II to find out how exclusive the car really is.