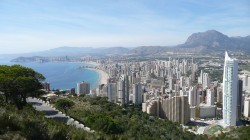 Benidorm is a coastal town in the province of Alicante on the Costa Blanca by the Western Mediterranean. It has grown from a sleepy coastal village in the 1950s to one of Europe's top holiday destinations by the 1970s.
Benidorm saw the construction of a large number of high-rise developments along the coastline in the 1960s, all necessary to house the increasing numbers of visitors to the resort. With the opening of Alicante airport just south of Benidorm in 1967, further construction was required to house the wave of visitors from Holland, Germany and the UK. Construction continued and the resort enjoyed its boom period, peaking at 12 million visitors in 1977. Although that number has never been topped since, Benidorm holidays remains one of the most popular holiday destinations in the world. 
Sangria, sand and Benidorm established itself as the model resort for the package holiday industry. Now Benidorm is firmly established as a family resort. Although visitor number have dropped slightly in recent years, the population of the town swells from just over 70,000 to around 1.5 million each summer. Benidorm has also become extremely popular as a winter destination for elderly travellers from Northern Europe, with the town's micro-climate providing mild weather year-round.
In 2011 Alicante Airport received 10 million visitors, and Benidorm would have received the lion's share of those holidaymakers. With summer coming better book your hotel in Benidorm now.