The Golf Club Toscana Resort Castelfalfi is an estate in the heart of Tuscany in Italy. It is less than one hour away from the land between Florence and Siena, Pisa and Lucca. Castelfalfi is an 1100 hectares estate, which had been left by it's inhabitants back in the 60s. Thanks to a project this small village has been restructured and is once again habitable. Today it is an ideal place to enjoy some nice holidays. Castelfalfi offers hospitality and good cuisine, as well as a  prestigious golf course and other sports activities like hiking, biking, horse-riding, mushroom or truffle hunting and more. All surrounded by nature, a century-old history, a timeless landscape, culture and relaxation. 
Golf course Castelfalfi
The golf course of the Golf Club Toscana Resort Castelfalfi is one of the most fascinating in terms of landscape and views. But as well it is one of the most challenging golf courses. The re-design of the existing golf course has been done by Rainer Preissmann and Wilfried Moroder, both EIGCA associates – European Institute of Golf Course Architects – London.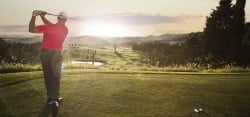 The temperate Tuscany climate allows you to play throughout most of the year, either for practising amateurs or even expert players. The course has 27 holes and is divided into two courses.
The 18-hole Mountain Course is Par 72 and was even awarded with  the 3rd prize of the prestigious "GOLF INC. Renovation of the Year Award 2011". The course is challenging and highly technical.
The 9-hole Lake Course is Par 37 is suitable for everyone, whatever their handicap. But the course is nevertheless technically and strategically challenging. In addition to the two course there are a driving range, golf clinics and a small Club House with bar and terrace.
Hotel La Tabaccaia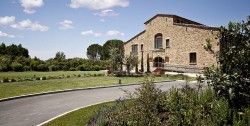 Having such a nice resort and golf course there must be a good hotel inside the Golf Club Toscana Resort Castelfalfi. The Hotel La Tabaccaia used to be a tobacco factory and has been restored to a modern hotel. You can still see the original structure. Many of the 31 rooms and suites still show the ceiling wood beams and the old bricks darkened by the time. Modern life went into the hotel and every room offers high-speed Wi-Fi connection, LCD TV with satellite channels, air conditioning and a comfortable bathroom with rainfall shower head.
Castelfalfi is not only a tourist destination. You can become part of it by purchasing one of the village's apartments or even one of the farmhouses.