The Gibraltar Music Festival is an annual music festival held in the British Overseas Territory of Gibraltar. This year it will take place on the weekend of 5th- 6th September.
The first edition of this event was organised by the Government of Gibraltar as part of the Gibraltar National Week celebrations in 2012 and this year will be the third edition that counts with artists like Kings of Leon, Duran Duran and Tow as the main names. Some of the others famous names to complete the line up are Tom Odell, The Feeling, Lawson, Third World, Rae Morris, Paddy Taylor, Reach, Strange Brew and Tim Garcia ft Afterhours. 
The Festival will be held the weekend of 5 and 6 September 2015 and the tickets have been on sale since may and all of vip ones are sold by now so it is expected to have a great number of public and vistors. This year's edition features the best program to date and will take place in the picturesque and cozy setting of Victoria Stadium, on the Rock of Gibraltar.
The group that will head the lineup this year is none other than the legendary rock band from Nashville, Kings of Leon, who will participate in the festival in his only performance in british territory this year. With hits like Sex On Fire, Use Somebody and The Bucketen, they are of the best groups of their generation.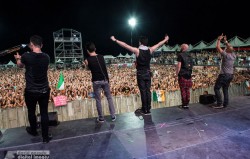 Pop icons like Duran Duran also lead the cartel. With over 100 million records sold worldwide, they will release a new album in mid-September. This year will also feature collaborations like Janelle Monae, Kiesza, Nile Rodgers and Mark Ronson: the band has the same vitality as ever to go on stage and delight the public. A performance that will review all the musical history of the band so far, from their greatest hits to the new material.
Along with these two groups who lead the cartel, many other artists who excel in the international music scene will participate in the Festival: Tow, Catalan rumba, coming from Barcelona; the award-winning piano balladeer Tom Odell; singer-songwriter Rae Morris amongst others.
Also, many of the best musicians of Gibraltar will participate in the Festival: Reach, Strange Brew and Tim Garcia along with Paddy Afterhours and Taylor have confirmed their presence as part of the stellar lineup.
The Gibraltar Music Festival will be an event for everyone and with a family atmosphere, the perfect finishing touch to this summer for two amazing days.