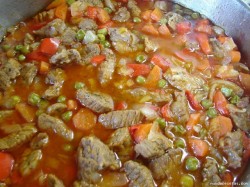 Estofado is a traditional Spanish beef stew. It is another great meal to have on a cold winter's day or evening as it will warm you through to your bones. Try it!
Note: It is important to keep the carrots reasonably large otherwise they will melt into the stew due to long cooking times.
Ingredients
Serves 4 (as a main course)
Total cooking time: About 1 hour and 50 minutes.
3 tablespoons of good quality olive oil
500g stewing beef
250g carrots peeled and cut into large chunks
1 medium/large onion chopped
3 handfuls of fresh (or frozen) peas
3 or 4 chopped tomatoes (skins removed)
1 tablespoon of paprika
3 cloves of garlic finely chopped
500g of potatoes peeled and cut into large chunks
1 wineglass of good quality white wine
250ml of beef stock
150ml of water
1 teaspoon of white flour
salt to taste
freshly ground black pepper to taste
pinch of saffron (for colour)
Extra herbs:
I like thyme but you can use oregano too if you like.
Method:
Heat half the oil in a large cooking pot. Cut the meat into cubes if it isn't already and coat each piece in a little bit of seasoned flour. Add the meat to the hot oil and brown it.
In a small frying pan heat the rest of the oil, add the onion and garlic and fry for about 5 minutes. Add the flour and the paprika and fry for 5 minutes being careful not to burn the mixture.
Add the onion mixture to the meat pot, add the white wine, beef stock and water and bring to the boil. Cook this for about an hour and a half over medium heat.
Add the carrots, chopped tomatoes and a little saffron (or a teaspoon of yellow food colouring) to the pot and cook for about 10 minutes.
Then peel and add the potatoes, the peas, a little more beef stock if necessary and cook for another 20 -25 minutes until the potatoes are cooked.
Serve it with some crusty bread or rice for an even more complete meal.
I like homemade garlic bread with this.
Delicious!