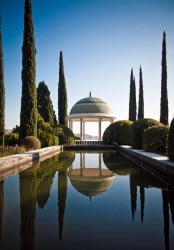 La Concepcion is one of the most important botanical gardens in Europe, with a great collection of different trees and flowers. A must visit for all flora lovers.
The Historic Botanical Garden La Concepcion is a garden of English style landscape with over a hundred years of history. Located at the northern entrance of the Spanish city of Malaga, it is one of the few gardens with plants of subtropical climate that exists in Europe. It has more than fifty thousand plants, two thousand tropical, subtropical and indigenous species, highlighting the collection with over a hundred different species of palms, bamboo, aquatic plants and its historic garden.
It was originally owned by a ranch family of gentry of the city from the mid-nineteenth century. In 1943 it was officially declared historical artistic garden, currently considered a Cultural Interest ,until in 1990 became publicly owned, with the City of Malaga who founded to manage the Municipal Botanical Trust. 
They offer different type of guided or free visits such a tour of the historic are, viewpoints path or route of palm trees and collection, or a complete tour. Group and school groups visits can be arranged too with special tours and educational workshops.
This botanical garden offers a collection of plants organize under a scientific approach where research and educational activities are carried out, with large groups of plants arranged by types such as fruit, bamboo, palm trees, vines, Mediterranean plants, water, etc. They have formed various grounds to walk around and learn.
They offer different services such as renting spaces for cultural or social events, protocol, charitable, academic events. Photo shoots and film: the design and Cónsula scenario can serve and commercial photo shoots or filming for private use. Bibliographic and documentary materials related to the history of Málaga nineteenth, Flora, Botany and Gardening. Civil weddings: Conception is one of the places that the city offers to hold civil weddings officiated by members of the Corporation.
There is a gift shop at the entrance of the garden where you can find souvenirs and garden related products, and also a bar where you can get breakfast, lunch and snacks.