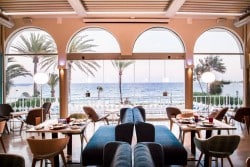 Three different atmospheres in a small and unique area in Marbella, that's what Les Cubes is.
Elegant, versatile and great ambience with views of the Mediterranean Sea, Les Cubes is a unique place in Marbella that combines three different environments, one in each cube, all exquisite.
These three spaces have different names and all are perfect for different kind of occasions, for example TO BE OR NOT TO BE is a drinks lounge, where you can start with a cocktail or aperitif and finish with a fine drink to the beat of great music in a relaxed atmosphere from one o'clock until after midnight without interruption. The same opening timings are for KALINKA MALINKA, where you can enjoy a casual or more informal lunch in a relaxed environment or dinner with tapas. This is neither a restaurant, nor a bar or a café, it's a mix of all of them so you can enjoy anything at any time with amazing views. They offer a diverse high profile variety of international teas and coffees and they also have a variety of cigars as well as the traditional sheeshas (hookahs).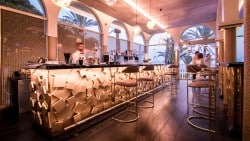 Finally, C'est la Vie, is the gourmet place at Les Cubes. A restaurant open for lunch and dinner every day and where the main premise is the quality and varied international menu, an authentic culinary journey that offers exquisite, sophisticated but simple dishes.
Ladislao Comins Felix Palacios is the head chef of Les Cubes and has outstanding awards and recognition as champion in Valencia Competition Best Chef of the Year. On its wine list with a selection of references constantly updated, it offers customers the best wines with over 200 references in the most optimal conditions according to the most refined palates.
Therefore, Les Cubes is a nice and elegant place to have lunch or dinner dates, get togethers with friends or even clients meetings. It has a unique space for each of these events or occasions and more.