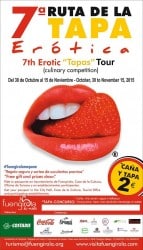 About 100 different restaurants and bars participate this year in the 7th Ruta de la Tapa Erótica, the "Erotic Tapas route" in Fuengirola (Costa del Sol) until the 15th of November.
Starting October 30 and going on for two weeks, a new edition of The Erotic Tapas Route will take place in Fuengirola this year. This has become, in the last years, a very interesting activity for locals as well as tourists that can enjoy the delicious Spanish gastronomy in a different and fun way. One hundred restaurants are involved until November 15 in this "Ruta", an initiative for which 50,000 "tapas passports" in English and Spanish will be given for the participants in the different hotels, bars and restaurants of the city.
Each of the restaurants that participate are supposed to make a sensual and fun tapa dish, and this special dish will be available for the customers during the days set. The customers can get their "tapas passports" stamped in all the places where they go for tapas, it is a fun way to eat tapas as you can try and get the stamps from all the restaurants participating. If you deliver the passport with all the stamps in the Tourist Office of Fuengirola, you will get a surprise gift too. The customers can also vote for the best tapa award, so all the bars and restaurants are participating in the contest of the best tapa. 
Apart from the usual local gastronomy dishes, sweet tapas served as desserts is the new thing of this year. In the last edition of La Ruta de la Tapa Erotica, 50,000 passports were given, from which 6,000 were delivered with all the stamps and more than 300,000 tapas were served. All the tapas have funny names for this special occasion, for examples some of these are "Your lips for me" or "help me, I need Viagra".
Thus, citizens and visitors can enjoy a total of 100 creative and original tapas prepared by catering establishments in the city at a price of two euros.With this initiative, the City Council aims to promote local restaurants in a month that traditionally has less commercial and tourist activity. Municipalities such as Tenerife, Santiago de Compostela and Zaragoza, among others, have imitated this initiative and have launched their own routes "in the image and likeness of the one held in Fuengirola, which demonstrates the success of the council with this project."