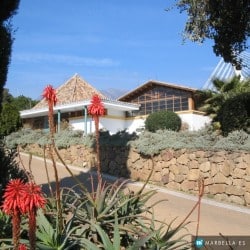 The Bonsai Museum is located in Marbella, and is considered one of the best in Europe. Among its attractions, figures the most important collection of wild olive trees in the world.
The Museum of Bonsai of Marbella, a pioneer in Spain, was founded in 1992. The central "patio" of the museum is designed in a square shape around a large central rock where numerous specimens grow.
There is a magnificent collection of bonsai, recognized as one of the most important in Europe, with an outstanding collection of olives of 200, 300 and 400 years, it is a unique collection that is displayed in the world. Among its jewels there is a copy of a specimen called "the Bull" (el toro), a juniper tree over 400 years old, which was remodeled in 2003 by the renowned master Maximum Bandera. 
The visit to the museum is impressive and grows into a reflection on Mother Nature while giving us the chance to enjoy these small, but great works of art. It does this with such interesting specimens as "Hackberry" from China and deciduous intense-green leaves or an olive tree called "Acebuche" of 300 years.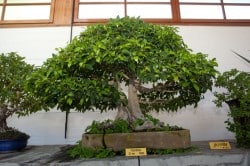 Bonsai Museum also has miniature of native species from the rich natural environment surrounding the town. Some like the fir, endangered, and all true works of art, worthy of admiration.
They carry out many cultural and educational activities in the museum and it has the Kyoolay Fuji Bonsai, a vanguard art school within the educational landscape of bonsai in the West. It is open every day, Monday to Sunday in mornings from 10.30 to 13.30, and evenings from 15.15 to 19.30. The entry fee for adults is 4euros and for children is 2 euros.
A visit to the bonsai museum is a perfect plan for the whole family, a different experience where everyone can admire nature and learn about these special trees.