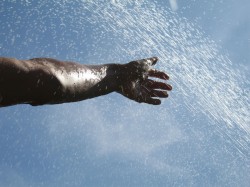 The temperature in Andalusia this week soared to alarming heights, causing many towns to issue orange and yellow alerts. The mercury is expected to rise up to 42ºC this weekend, with night-time highs of as much as 25ºC over Friday and Saturday.
Andalusia is home to the hottest and driest summers in Spain, but in the west, weather systems sweeping in from the Atlantic ensure that the region is kept relatively wet in the winter, with some areas receiving abundant rainfall. Contrary to popular belief, Andalucia enjoys above average yearly rainfall in Spain.
The majority of holidaymakers to Spain will want to visit during the height of the summer. While the weather is reasonably nice all year, although coldest in January – things don't really start hotting up until June. After that you'll be lucky to even get a brief shower until around October.
So what about the coming month of September? Well, Andalusia is well known as Spain's sunniest region and you'd be unlucky to not get good weather all over for the entire month. Seville (like Madrid) may still be unbearably hot, but the coastal cities will be more comfortable temperatures.
The average maximum temperature in Malaga in September is 82°F/28°C and the average minimum temperature is 64°F/18°C.
Spanish meteorologists say the recent heat wave has been caused by an anticyclone, affecting Andalusia, Extremadura and Castilla la Mancha.
However, all that aside – these blazing hot days have still not managed to break the all-time record, for the hottest temperature ever recorded in Spain was a whopping 47.7ºC on the 6th August 1946 in Sevilla-Tablada.
Well that's hot enough to learn that you could use your seatbelt as a branding iron!