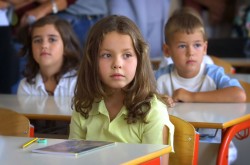 With September, and the start of a new school term just around the corner, what better time could there be for parents to research into private schooling in Marbella?
Two new schools from The British Schools Network are being opened in Spain during the next month, they are "The British School of Marbella" and "The British School of Navarra" The British Schools Network is one of the largest and most famous networks of British International schools in the world.
"What about the economic crisis?" I hear you say. Michael Elms, the Groups Development Manager, implies this is not an issue and was quoted as saying "Despite the current economic crisis, we believe that a quality proposition will eventually succeed in Spain; a market that has all too often been satisfied with schools that merely teach in English".
"Is it worth sending my child to a private school?" is the question on every parent's mind. However, unless you're fabulously wealthy, this is a decision not to be taken lightly.
Many factors contribute to the overall lure of Private Schools. Some of the reasons include, but are certainly not limited to:
Private schools usually have smaller class sizes and achieve higher exam results than state schools.
Class sizes are between five and thirteen pupils on average in a private school, whereas there can easily be 30 pupils per class in a state school. Many feel that the extra attention smaller classes afford private pupils improves their educational experience.
Private schools also tend to offer more extracurricular activities such as drama, sports, music and art than state schools.
Many parents who send their children to private schools feel that they benefit from having more control over their child's education.
The premises of the new school are a far cry from most state schools in the district, with Interactive White Boards standard in all classrooms, library and IT facilities, Music suite and age appropriate playgrounds all in charming colours and a neat and tidy environment. The first day of term at The British School of Marbella will be the 6th September and the school has launched a special fee structure to founding families. This is a limited time offer which is due to expire in October, after which fees are expected to be higher and in strict accordance to the standard of education provided.
The current offer is a monthly fee structure starting from €350, or an all-inclusive fee structure from €1,300 per term. The all-inclusive structure includes: lunches, all school materials, full set of uniform and Free Medical Insurance.
With a look at the financial side, it appears that this new phenomenon in quality British schools comes at a price. And a pretty hefty one too. The fee's for this school are typically 10% or 20% above conventional international schools and show no signs of abating. Indeed, a board member for the group, John Ordovas was quoted as saying "We perfectly understand the difficult economic situation, for which we have implemented a scholarship programme. However, the reality is that top education is expensive and we are not willing to compromise on quality"
At the end of the day all private schools, like all state schools, are different and need to be judged on an individual basis. The best approach is to research the schools in your area and visit them if you can. If you are still undecided it is worth visiting state and private schools to get a balanced view.
Judge for yourself, with a look at the British School of Marbella's website here: www.bsm.org.es With the site's simple interface, you can find out all about the school's principles, facilities and admission's procedure quickly and easily.