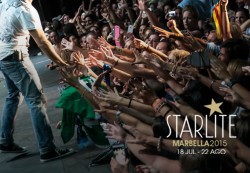 Once again, Starlite Festival will take place in Marbella for a month from 22 July to 22 August, an annual event filled with concerts, parties, a charity gala and a lot more.
Starlite has become one of the most important events of the summer season in Marbella, and each year is being more recognised with a lot of new stars and celebrities taking part on it. Starlite Festival Marbella is an annual social and cultural meeting of reference in Europe, for a month every summer the quarry of Marbella, a natural amphitheatre surrounded by greenery and the ocean front brings together international stars that perform at this unique venue. 
Lenny Kravitz, Enrique Iglesias, Anastacia, Julio Iglesias, Laura Pausini, Alejandro Sanz, Lionel Richie, Village People, Melendi and Plácido Domingo are some of the biggest names that have chosen the Starlite auditorium to give their only concert in Spain this summer. The location, the good acoustics and closeness between artists and the public make the audience to enjoy unique and great concerts.
The artists and celebrities are not only on stage but also among the public having a drink, enjoying a nice meal for dinner or dancing, making this a unique experience for everyone who attends it.
Thanks to Starlite which is being a great ambassador of Spain, the "Spanish Brand" is getting more acknowledgements in the world. In addition, there is a one night charity gala dedicated to philanthropy and hosted by famous Spanish actor Antonio Banderas. The Starlite Gala is the most important charity gala in Spain.
Starlite is not only about the concerts, but there are many other things to do like movie premieres, parades, exhibitions, gastronomy fairs, etc. Last year had the exclusive premiere in Spain of the movie Expendables 3 (Los Mercenarios 3) with Stars like Sylvester Stallone, Jason Statham, Kellan Lutz, Antonio Banderas and Wesley Snipes showing up at the Starlite Festival.
There is a lounge area where you can enjoy drinks and that hosts fashion shows of young local talents which has become a great showroom for talented designers and models. There are also art exhibitions and restaurants where you can enjoy a great variety of dishes. After doing all of this, at midnight, Starlite Lounge area becomes the only club in a quarry that is open until 6am in the morning. There are different parties that take place every night at the Starlite Festival Marbella 2015 with the best music played by DJ's and different themed glamorous parties.