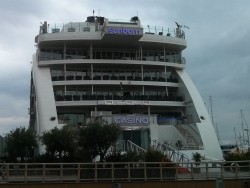 Sunborn is a different concept of a luxurious five star hotel in Gibraltar's Ocean Village. Sunborn Gibraltar was open in March 2014 and is one of the best and most luxurious hotels on the Rock. Located at Ocean Village Marina and counting 189 rooms and suites with amazing views, outdoor terraces or balconies with full-height wall-to-wall glazing to get the best views of the Mediterranean, this is an unique hotel that offers the most comfortable stay for its guests.
It is a five star hotel that counts with all the services such as spa and fitness centre, cocktail lounges, fine dining restaurants and a grand ballroom for special events. There are spaces for conferences, corporate events or meetings with special catering arrangements. The top floor Sky Restaurant has a retractable roof and panoramic views that you can enjoy while having the best meals. 
Famous La Sala Restaurant opens at Sunborn Gibraltar
Apart from all of this, the popular restaurant La Sala just openend at the Sunborn Yatch Hotel. The La Sala group has a couple of restaurants in Puerto Banus and San Pedro and it is a popular choice between English football players as it is owned by former premier league players Stephen Carr and David Bentley.
La Sala is the perfect place to enjoy amazing brunches or lunches and is a great fine dining spot where they usually play music later in the night so you can convert the dinner into a party with great atmosphere. This establishment is the first one of the group in Gibraltar.
Sunborn Casino opens at Sunborn Gibraltar
Apart from a new restaurant Sunborn Gibraltar just opened the Sunborn Casino. The first super yacht casino in the world is offering a unique casino experience to guests and VIPs from all over the world.
This casino is one of a kind, located at the exclusive and splendid Sunborn Yacht Hotel in Ocean Village Marina in Gibraltar, with table games, the best slot machines and excellent service will give you a unique first-class gaming experience.
Enjoy the game with all the comforts of a 5 star super yacht hotel at your service including table cocktail bar that serves for casino members and guests. The bar is well stocked and offers a variety of champagne, wine, spirits and soft drinks suitable for all tastes. The casino players can also enjoy other facilities of the hotel such as the Sky Restaurant or the spa.
Sunborn Casino is prepared to host poker tournaments too as the luxurious ballroom can accommodate up to 20 poker tables and have other facilities to make events like these happen. It also provides all the traditional table games such as American roulette, blackjack, poker and mini punto banco. The main gaming area is open from 4pm to 4am every day and you can play with minimum and maximum bets allowed. Apart from the usual table games, they have an extensive selection of the best slot machines and also an automated roulette which you can access at any time of the day. Playing at this casino will guarantee you a thrilling experience.
The casino offers loyalty programs for their guests and they include rewards like free drinks, accommodation or luxury presents. You can easily earn points by playing on the table or slots by joining the any membership program and start getting rewards. Every customer gets 200 points when registering, while Gold and Diamond members automatically receive bonus points upon entry.