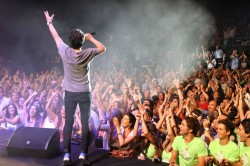 Starlite is a music and cultural festival with a daily programme that includes music, fashion, art, film and gastronomy events in the beautiful city of Marbella. This year will take place the third edition of this festival from July 23 to August 23.
Sprung up around the Starlite Gala, the festival was founded by the famous couple Sandra Garcia-Sanjuan and Ignacio Maluquer in 2012, holding its first edition from July 13 to August 14 of that year, and since then it's been taking place every year during the summer to brighten up the nights of Marbella city. 
This festival has become one of the best reference in Europe of this kind of events and its daily schedule includes all kind of different activities related to fashion, music, movie and fine food in a natural outdoor space under the stars. It doors are open every day for a month, with amazing shows at the only club in the world in a quarry. The auditorium of this outdoor club has only 2,500 locations, offering intimate concerts where the public lives a unique experience with the stars that perform.
Starlite Festival 2014 and the stars
This years stars includes Pet Shop Boys, Ricky Martin, Alejandro Sanz, Miguel Poveda, Tom Jones, Julio Iglesias, Dani Martin, Chucho Valdes, Sergio Palma, Rosario, Alejandro Fernandez, The Beach Boys and many more.
Starlite festival also has an area dedicated to haute cuisine where every year offering the best gourmet restaurants in the area. Each week, the Starlite Auditorium for one night turns into a summer outdoor movie cinema, with the larger screen of Spain. Starlite 2014 will feature the most important summer premieres extending the offer to one screening a week.
This festival also has a space for fashion. In previous editions, famous jewelry brands such as Gómez and Molina have had their fashion shows here and it has also hosted the "Marbella Crea" event, in which the most promising young designers from Marbella are given the opportunity to show their work.
Starlite Gala
Furthermore, Starlite has one night event dedicated to philanthropy which is the Starlite Gala, hosted by Antonio Banderas, that has become the most important charity gala in Spain. This year will take place on August 9.
National and international artists such as Enrique Iglesias, Bryan Adams, Julio Iglesias, Alejandro Sanz, David Bisbal, Jamie Cullum, Paco de Lucia,Tony Bennett, Sara Baras, Miguel Bosé and Raphael, among others, have already passed the stage of the festival of Marbella and performed at the auditorium.
The previous editions of this festival have had great exposures and national impact in Marbella. In just three years of existence, the international press has already listed it as one of the most important festivals in Europe, being compared to the Monte-Carlo Sporting Summer Festival.