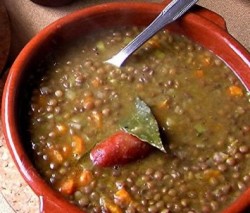 With the cold and rain making Spain not the most pleasant place to live presently, there's nothing I like better than curling up in front of the fire with a hot bowl of lentejas. Many traditional Spanish dishes include pulses from lentils to all sorts of small or flat or large beans, chickpeas, cannelini beans, rice etc. Upon visiting Spanish restaurants, you will often see lentils offered as a first dish of a "Menu del Día" (day menu). Lentils, although they might not look particularly appetising, are a filling, nutritious and tasty dish.
This dish below can also be made without the requisite chorizo and serrano ham to make an entirely satisfying vegetarian option.
Ingredients:
250 gr. lentils
50 gr. chorizo (or a few slices)
100 gr. serrano ham
1 large onion
1 small glass of red wine
half a small glass of olive oil
1 bay leaf
2 carrots
3 small potatoes
2 cloves of garlic
1 pinch of saffron (if desired)
2 pinches of fresh parsley
salt and pepper to taste
Method:
(Optional step) Soak the lentils for half an hour. Even though small lentils in packets usually don't need soaking, Spanish women tend to soak them anyway.
Cut the ham and chorizo into dice-shaped pieces. Peel and wash the carrots and potatoes. Slice the carrots and dice the potatoes (unless they are very small)
Drain the lentils and put them in a saucepan. Add enough water (or vegetable stock) to cover them and add the ham, chorizo, carrots, potatoes, bay leaf, pepper, parsley, a little salt, saffron and wine. (Sometimes add this point I also add a little cumin to give slightly more depth to the dish) Put the pan over a low heat and cover.
Slice the onion and garlic and fry, stirring all the time. When soft, add to the other ingredients in the saucepan.
Let the lentil stew simmer for at least 30 minutes. Boil off any excess liquid at the end.
Enjoy!