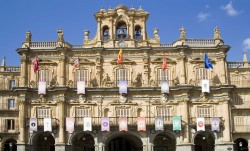 Salamanca is a great place to learn the Spanish language thanks to its reputation for "pure" Spanish. A wonderful place for language courses, Salamanca is a city you will get to know quickly and one that you'll remember for a long time. The international atmosphere provides the chance to meet people from all over the world whilst experiencing an authentic Spanish lifetyle through the langauge courses and activities.
Why study abroad
Language learning experts agree that the best way to learn a language is to be immersed in it. To have the sound of the language all around you and to see the language written wherever you look is a sure-fire way to build familiarity and confidence. Studying abroad you will be constantly in situations that require the use of the language, whether at home with your host family, at the shop or eating out.  Learning Spanish in Spain you will be able to appreciate Spanish culture – its art, cinema, theatre and dance – and understand how Spanish life differs from yours back home.  You will eat Spanish food, sing Spanish songs and have the opportunity to siesta like the Spanish too! Travel broadens the mind but travelling while learning a language broadens it.
Why Salamanca
Known as Spain's "golden city," Salamanca is rich in architectural, religious and gastronomic culture. Marvel at the La Casa de las Conchas (house of shells) and the 18th century Plaza Mayor, then pore over the fresh produce of the Central Market. Both the Old and New Cathedrals of Salamanca are celebrations of Renaissance and Gothic styles.
The Spanish language of Salamanca
Salamanca has long been a popular place to study Spanish because it is in the heartland of Castile, and is deemed to be somewhere they speak 'pure Castilian' or castillano the 'true Spanish'.  It's a bit like the Queen's English.  Spanish is one of the most spoken languages of the world. For the same reasons it has been taught at various institutions all over the world. Spanish is not pure anywhere because like all other languages Spanish also has influence of other languages. The most pure form of Spanish is spoken in Salamanca and it's not influenced from other languages in this part of the world because of many reasons. Salamanca is special focus of attention for Spanish lovers. People who wish to correct their Spanish language skills often visit Salamanca for that reasons. Salamanca is just the right place to learn perfect accent of Spanish and perfect grammar of Spanish as a language. It is best to communicate with someone belonging to Salamanca in order to learn things faster. It is easy to communicate with the natives of Salamanca. There is a famous square in the city known as Plaza Mayor where everyone comes. It is considered a living room of the natives of Salamanca and they communicate and speak pure Spanish there. Even one can enjoy listening while the natives talk in purest form of Spanish language in the Plaza Mayor. You should consider spanish language courses in salamanca to learn good Spanish. There are many great universities in Salamanca also. A visit to such universities can be planned for coordinating with native students. Similarly any institute can be consulted for correcting things in the Spanish language during the visit to Salamanca. One can easily make the native contacts for learning Spanish because people in Salamanca are generally friendly