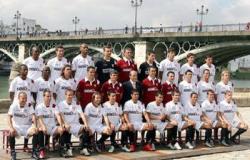 Spain is not only famous for Paella, beautiful beaches and bull fighting, but also for its successful soccer clubs. Just like in England, Spanish football is fast and exciting and not only locals get excited while watching a match in the Spanish league. For sure all of you are familiar with big names like FC Barcelona and Real Madrid, but there is one more club that deserves to get your attention. Sevilla FC, which main sponsor is 888.com, one of the world's biggest online casino and poker room, is another very successful example of Spanish football excellence.
Four times winner of the Spanish champion ship and several international achievements show that this club belongs to the collection of high-class football. Many famous players played in this club and even Diego Maradona found his way back to the Argentinean national team while playing in Sevilla FC.
Looking back on a long list of great games, Sevilla FC is seen as on of the favorites for the next Spanish champion ship.