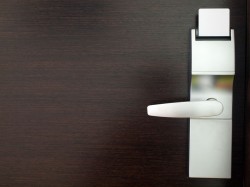 The 'Secret Hotel' concept has always been an intriguing one for me – why on earth would anybody risk his or her entire holiday by booking anonymous accommodation – sites like SecretHotels.eu have made it their business to help supplement the information provided by booking agents – so I decided to do some research and book one for myself…
First, the largest initial benefit, the cost! I was able to book a 4*, well-equipped hotel, in Amsterdam, during peak season, for £80/night – that's roughly 40% below the list price of standard hotel listings in the area.
While not providing me with the name, the booking agent did specify a general location, which is usually enough to workout if you're going to spend much time travelling to the sights – I'm pleased to say that I was bang in the center of the city. 
After placing my booking I was presented with the hotel name almost straight away – given that I already knew the facilities, star-rating and location, the name didn't add all that much, and I was starting to wonder what all the fuss was about!
So, the trip – upon arrival I was greeted like any other hotel guest, my room was as expected, in fact, other than the fact that I'd booked a 'secret hotel' and was without the name of my booking for all of 10 minutes, there really was no difference whatsoever.
So to conclude, a significant saving and a successful trip – the anonymous booking was all but a minor stress and I actually quite enjoyed the element of mystery and suspense… BUT, it's not for everyone. If you have very specific location/facility requirements, perhaps you have small children or are travelling on business, then this is not for you – taking a risk on your accommodation is not for everyone. If you find yourself sweating over which secret hotel to choose, then you're probably better off not booking one at all.
I'd also recommend taking a look at one of the supplementary sites before placing your booking… I was able to get quite a bit of additional location related information from SecretHotels.eu Amsterdam section – aside from fluffing up the hotel facilities, the site does give good advice about where you will be staying, and what to look out for dependent on the type of trip (Romance / Culture etc).