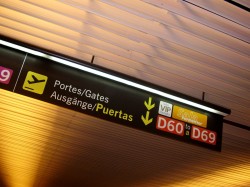 If you are thinking about a trip to Spain, here are some tips to help trim your vacation budget.
Book Your Flights at the Right Time
Though last-minute deals can be good value, you can get the cheapest flights by booking months in advance, especially if using a budget airline. Though budget airlines only cater for Europe countries, that doesn't mean Americans shouldn't think about them. Often the cheapest way to get to Spain is to find the cheapest flight to Europe and then to take a budget airline from there. But beware – budget airlines' extra costs can take you by surprise, especially Ryanair's. If flying transatlantic, the best prices are normally found around three months before flying. 
Share Accommodation: Youth Hostels and Couchsurfing
Do you really need a private room? If not, try a youth hostel. They're no longer the characterless places they used to be. Free wifi and break fast is standard in Spanish backpackers hostels and all ages stay in them these days.
The best place to book them is on Hostelworld. An even cheaper option is couchsurfing. There are websites that allow you to contact people with free couches. These people let you sleep on their couch for free and are always more than happy to show you around. Admittedly, these services are not for everyone.
Avoid the Train (Usually)
Lots of people go straight to the train station when traveling in Spain, fearing that taking a bus will be more difficult. It will be, but that doesn't make it impossible. It is usually much cheaper to travel by bus and you'll often save time too.
When in Spain, Eat as the Spanish Do
The Spanish have a small breakfast and a large lunch – you should too. That's because lunch in Spain is far cheaper than eating in the evening. It is a legal requirement in Spain to offer a 'menu del dia' Spanish cafes are full from 7am or 8am u ntil 10am as the locals have a pastry or a piece of toast with a coffee. It is cheap (under 2€).
Consider a Discount Card
Discount cards get you cheap or free entry to just about every museum in town. They can save you a fortune if you're a particularly ambitious tourist and get a lot done in a day. But often the card will cost you more than you manage to save. This is why I say 'consider' a discount card. Work out how many attractions you're likely to get through in a day and see if the card is worth it for you.
Rail Passes – Do Your Research!
So many travelers who have bought a rail pass, thinking it'll be the cheapest way to travel and then found that it isn't always great value in Spain. In Spain you'll often find buying individual train tickets is cheaper and you may want the freedom to take the bus (see above). That isn't to say a rail pass won't be worth the money, just do your research first.
Visit Museums on Their Free Days
What's bet ter than cheap? Free! Lots of museums in Spain are free on certain days or at certain times in the day. You'll find them to be at lot busier at this time, but don't let that put you off – you can always go again!
When in Granada, Eat Tapas
Everyone's amazed to discover that in Granada, you can eat for free! That's right, with every small (usually alcoholic) drink you buy in a bar in Granada, you'll get something to eat. And we're not talking just a few olives here (though that is occasionally all you get). We're talking generous portions of paella or even a burger and fries! You can easily get your fill after just three or four small beers.
Travel Hand Luggage Only
Though if you're on a transatlantic vacation this will be impossible, going on a short trip within Europe should be doable just with hand luggage. Most budget airlines charge to check bags in, so traveling with hand luggage only will save you quite a lot of money.