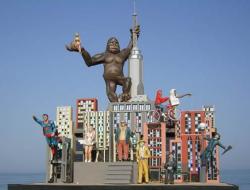 San Juan is held each year on the night of the 23rd of June to the 24th (Dia de San Juan). It's the welcome to summer and its celebration takes place during the shortest night of the year. I have seen it last year in Sabinillas, but in many towns, cities or villages on the coast is the same procedure. In Sabinillas a huge tableau is constructed on the beach a few days before the event. It is a work of art and every year is a different theme. Last year you could see some big buildings from New York with figures from Superman, King Kong on the Empire State Building, The Mask and Marilyn Monroe.
At 12 o'clock at night there is a big firework and the work is set on fire. Keep away from the fire, because it's really hot. I havn't seen something big like this for a long time. After that it is customary to walk into the sea to wash away any bad luck.
The night is also marked by live music and dancing until the early hours of the morning. This years actors are Danza Invisible and Ariel Rot both well-known from the 80s, not only in Spain. I think the music will be in the middle of Sabinillas. In front of the Cafeteria "Dulce Campesina", where it was last year.
According to tradition, if people jump three times over a bonfire on San Juan's night, they will be cleansed and purified, and their problems burned away. Another tradition, especially for women, requires the women of the house to prepare perfumed water combining the scents of seven plants – among them rosemary, roses and laurel – and to bathe or wash their faces in the water, again to purify themselves for the new season.