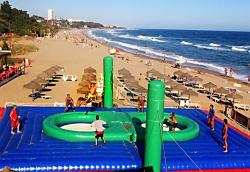 Bossaball is a new sport related to beachvolleyball, beachsoccer, footvolley, capoeira and gymnastics. It is a serious competitive sport and a a lot of fun. Bossaball can be played in teams of 3, 4 or 5 players. It combines elements of volleyball, football, gymnastics and capoeira on a pitch of trampolines and bouncy inflatables. The court is divided by a net and similar to a volleyball court.
The aim of bossaball is for each team to ground the ball on the opponent's field. Each team is entitled to a maximum of 8 contacts with the ball on its own field, meanwhile the trampoline jumper gains height to prepare a spectacular smash.
Any part of the body can be used to play the ball. Players can touch the ball only once with their hands, or double touch it with their feet and/or head. Once a team grounds the ball on the inflatables it gains 1 point. Scoring on the trampolines is worth 3 points. Hitting the bossawall (= the rings around the trampolines) doesn´t count as a score. With 25 points the game is finished.
Bossaball referees have a whistle, a microphone and can have various percussion instruments and a dj set. They referee the game and make the Samba feeling. But they´re not required to enjoy a game of bossaball.
In Spain the game was found by the Belgian Filip Eyckmans in 2004 and was introduced to the spanish beaches in summer 2005. In July there are some games on the beach in the province of Málaga. Maybe you want to join or just to have a look at it.
Málaga: 13th of July in the commercial centre "Centro Comercial Parque Miramar"
San Pedro de Alcántara: 14th-15th of July on the beach in San Pedro