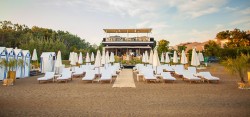 Located in Estepona, Salduna Beach is a different type of beach club and restaurant being one of the best places to experience memorable moments by the Mediterranean Sea.
Salduna Beach offers a wide range of services for you to enjoy unique moments by the beach. It is a small beach club where the beauty of the place is combined with the quality of their products. Their variety in dishes, cocktails, hammocks, spa or theme nights, makes this spot a must visit if you are on holidays or just want to enjoy this new place. 
The fusion of dishes from different countries, the careful preparation and presentation make them have choices for all tastes and everyone can choose from the different starters, desserts, varied breakfasts, menu for kids, cocktails and mocktails as well as international and organic wines, specialty coffees and much more.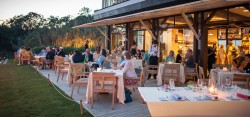 The great atmosphere at Salduna Beach makes it a great place to hold any kind of event. The different distinct areas make it easier to design any kind of celebration: the top terrace with panoramic views are ideal for private occasions, chill out on the beach perfect for outdoor events such as ceremonies or a concert, and the restaurant with luxurious interior and windows overlooking the wide beach is perfect for any other kind of event. There are so many different possibilities in activities such as yoga, water sports, massages and themed evenings.
They also have some thematic nights where you can feel like you're traveling to other countries as they transform the space, customize the menu and add the necessary elements achieving a journey through different parts of the world. On Thursday nights there is live music: Jazz, Soul and Blues melodies to enlighten your perfect night and on Fridays, Mexico is the theme. Mexican gastronomy, mariachis and tequila are the best combination to start a great weekend.
Overall, Salduna is a must beach club to check out if you want to experience something new or you are enjoying your vacations in Costa del Sol.