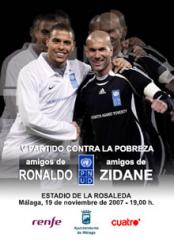 Like every year brasilian football player Ronaldo and french retired football player Zinedine Zidane have invited some of the world's best known footballers and other famous sports people to join them in the fifth "Match against Poverty: Ronaldo and friends vs. Zidane and friends" on Monday November 19th 2007 at 7 PM, at the newly renovated stadium of La Rosaleda in Málaga. As Goodwill Ambassadors for the United Nations Development Programme (UNDP), friends and football legends Ronaldo and Zidane and teams will face up to each other at mobilizing the public in the fight against poverty and to raise funds for projects in Asia, Africa and South America. The match will be broadcast by many television stations around the world. Ronaldo and Zidane have been the driving force behind the Match Against Poverty since 2003.
At the moment players such as Rivaldo (AEK Athens) and Roberto Carlos (Fererbahce) have confirmed their presence. At previous matches in Madrid, Basilea, Dusseldorf and Marseille, we could see not only football player. German Formula 1 driver Michael Schumacher and tennis player Rafael Nadal have taken part, as well as bullfighter Cayetano Ordóñez, who was personally invited by Ronaldo, played in the match in Marseille in March this year. The referee will be the famous Italian Pier Luigi Collina, who is now retired. But he hasn't missed any Match Against Poverty yet. As David Beckham's team, the Los Angeles Galaxy, have not qualified for the play offs of the Major Soccer League, maybe he is coming, too.
Tickets for the match, which kicks off at 7 p.m., cost between 10 and 25 euros can be purchased online at www.palaciodeportesmalaga.com from October 29th or at the Rosaleda Stadium ticket office from November 12th (open 10 a.m. to 2 p.m. and 5 p.m. to 8 p.m.).
Zinedine Zidane, who retired from active football in 2006 after the World Cup in Germany is now living in Spain, near the well known Marbella, and I think that's why they decided to play in Malaga.
As always, the FIFA, football's governing body, supports the match, while two leading sporting goods manufacturers, Adidas and Nike, are providing the equipment used by the teams. In partnership with UNDP, the match is being organized with the support of the City of Malaga and the Malaga Football Club, which is providing technical assistance.
Proceeds from the first three Matches have benefited anti-poverty projects ranging from support to female entrepreneurs to the construction of sports centres for street children and the disadvantaged, in Brazil, Burkina Faso, Bhutan, Comoros, Cuba, Colombia, Democratic Republic of Congo, Eritrea, Ethiopia, Guinea-Bissau, Haiti, Madagascar, Morocco, Namibia, Sri Lanka, Uganda, Tanzania, and Vietnam. Proceeds from the sale of tickets for this Match against Poverty will help finance new UNDP projects in Asia, Africa and Latin America.