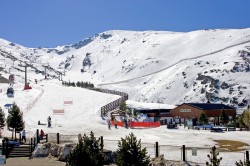 When it comes to talking about the Costa del Sol, you'd be forgiven for thinking that tourists only choose to visit in the Summer, as it's name suggests, the "Coast of the Sun" is famous for its scorching hot weather and chilled out beach bars, or "chiringuitos". However, this is far from the case – and we will see shortly, in times like these the best plan of action is to promote year round tourism for the country.
The objective for the Head of Tourism in Andalucia, Luciano Alonso is to maintain the province's position as the most popular destination for visitors from the rest of Spain, and indeed the rest of the world. He has chosen the Wine Museum in Malaga to present the plan to promote tourism in Andalucia for the coming autumn/winter season. In yesterday's visit to Conil de la Frontera, Cádiz where he came to see the building site of a 4 star hotel by hotel chain "Hipotel" Luciano Alonso declared to the waiting press: "Andalucia needs quality tourism".
The first of nearly two hundred marketing initiatives for tourism will be launched between September and December and 12 million euros have been especially set aside for this cause. The campaigns are aimed at the international market, including 30 european countries, the U.S and even China. Most of the funds will be spent on marketing for Britain, which continues to provide the majority of tourists to Andalucia although statistics show that the figures have dropped by almost 11 percent. Mainly of course, due to the weak pound and economic recession in the UK.
The campaign "Tierra Adentro" (Land Within) is directed at tourism in the interior of Spain, and gastronomy. Following that there will be the "Andalucia es tu casa" (Andalucia is your home) intiative in October. The idea of these campaigns has been to include weekend breaks to destinations nearby, and considering there are three "puente" days (the day that falls between a bank holiday and the weekend) from October to December there could really be no better time to take advantage of these!
For those who enjoy winter breaks better than anything else, there will be specific campaigns centralized around Christmas and the skiing season in the Sierra Nevada.
The official website for Andalucia Tourism can be read in English, French, German, Japanese, Chinese and Spanish. Please click the following link: http://www.andalucia.org