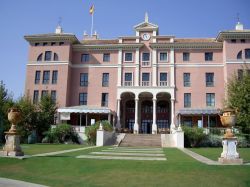 The US first lady Michelle Obama is planning to visit Spain and the Costa del Sol with her youngest daughter Shasa (7) in the first week of August from the 4th to the 8th of August. There are rumors that even Barrack Obama himself will be there to celebrate his 49th birthday which is on the 4th of August, but this has been declined by the White House.
The stay in Marbella is not really in Marbella, it's more in the area of Estepona, it will be in the famous five star Hotel Villa Padierna, which belongs to the Ritz-Carlton Group and is said to be the best hotel in Spain.
Villa Padierna features 129 exquisitely appointed guest rooms, suites and villas and is surrounded by three 18 hole golf course, including the famed Los Flamingos Golf Course (par 71), Alferini (par 73) and Tramores (par 71). It has a Thermae Spa with eight themed baths and steam rooms with two saunas with more than 2.000 square meters. From the hotel Villa Padierna on a clear day you can see the coastline of Africa and every night the sunsets are more spectacular than the last.
The first ladies visit will also include a trip to the Royal Palace in Mallorca to meet with King Juan Carlos and Queen Sofia.