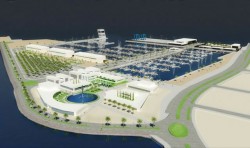 The Costa del Sol is mainly known for Golf, but as well it is famous for their marinas. The Alcaidesa Marina will be another exclusive marina on the coast. Situated on the golden shores of the Costa del Sol, set against the stunning backdrop of Gibraltar, the new Alcaidesa Marina is preparing to welcome luxury yachts and high-net-worth-individuals.
The Alcaidesa Group began planning and construction back in 2003, where the idea of bringing more high-end attention and travel dimension to the Spanish Coast brought forward plans for a new superyacht marina – offering spaces from 8 – 50m.
After opening the use of berths to owners in August as well as undergoing further cosmetic construction, the Alcaidesa Marina is a new potential yachting hub with modern facilities and services alongside high-end shopping centres and restaurants. The new Marina is strategically located by Gibraltar for its cool breezes and connection to both the Atlantic and Mediterranean Oceans, ideally situated near the Gibraltar Airport, Tarifa Beach and the Sotogrande Polo Fields.
The Marina consists of three basic areas, the sailing and water-sports centre, the northern side, with commercial sailing operation, dry dock and mooring facilities and the recreational, sailing and business area.
Once fully developed in two years time – 2013, the central area will have a surface coverage of 134,255 metre squared of land and an area of 139760 metre squared of water, with a capacity of 624 berths and 200 spaces in the dry dock facility.
Expertly designed by the Alcaidesa Group, the marina's open landscaped areas and promenades, luxury leisure centres and varied berths will bring a new element of style and sophistication to the Spanish Coast in 2013 as well as a new yachting destination to superyacht owners everywhere.
More Information: www.alcaidesamarina.com/