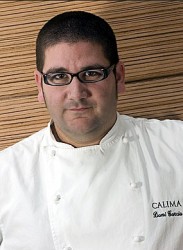 I had promised myself I would check out La Moraga, as I have heard nothing but good things about these luxurious and stylish restaurants. When I ventured to the quite recently installed establishment (June 2010) on the top floor of El Corte Ingles near the copper tower in Marbella, I have to say – I was less than impressed.
Firstly, the staff took ages to take our order – despite the fact that the restaurant barely had four customers – (my friend and myself included.) We were just about ready to walk out when a surly waiter came over to attend to us.
Secondly, when I ordered an Iberian pork kebab and my friend ordered a warm cod and tomato "bocadillo" (sandwich) we were not informed that my choice would take significantly longer to cook and thus it was that my friend was almost three-quarters of the way through her chosen meal, eating very slowly (all will be revealed in a minute) before I attracted the attention of the waiter to complain. I was met with a half-hearted shrug as he informed me that my meal was taking longer to cook.
On the subject of my friends meal, if it can even be called that – as when it arrived I was sure they had left some of it behind – it was barely larger than two fingers length and perhaps 2 and a half fingers breadth. Yes, I am serious. My friend commented on the fact, but being a rather tranquil sort, she started to eat without further delay. It was, she informed me, quite tasty… despite disappearing in just over two bites.
I guess that wouldn't have been such a problem if they hadn't priced the sandwiches at 5.70€ each! (My choice was actually larger and cheaper at €4.50!)
Strike two came when my food actually arrived. The kebab was dainty and cut open so you could see the salad inside. It was arranged artfully on the plate, with a few lashings of some cream-coloured sauce. Thinking that it smelled absolutely delicious (it was sprinkled with cinnamon) I took a tentative bite and tasted…. well, absolutely nothing. The pork was fine, not tough, and more-or-less melted in your mouth – but the taste? Well, it didn't have any! I couldn't even determine what ingredients had been used in the cream-coloured sauce as it was so lacking in flavour it could have been just flour and water. Now, I don't claim to be a haute cuisine connoisseur but I know when something tastes good and when it clearly doesn't.
While this kind of quality of food could be entirely acceptable in an economical, (but slightly grubby) menu del día café, here on what is essentially the "Golden Mile" of Marbella, I expected a lot more. Considering this restaurant is also the brainchild of one of Andalucia's most renowned Chef's, Dani Garcia, I cannot even tell you how disappointed I was.
I suppose that's what happens when you expect to be transported to the lofty heights of Shangri-La and crash land in the back-waters of Ghana.
Needless to say, when the bill arrived, I didn't leave a tip.
From an aesthetic point of view I can assure you, it couldn't be better – the restaurant was beautiful, with white tables and chairs, lovely place settings and stylish decoration. Unfortunately, this is not a place that should be judged by its cover… considering there is virtually no content.
All this aside, I am not ruling out a visit to another La Moraga, as I continue to hear great things about the establishment in Banus and perhaps this particular one is not representative of all La Moraga's within Southern Spain.
I will keep you updated on my findings…