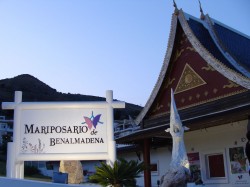 Discover the Butterfly Park in Benalmadena, in one of the best locations at Costa del Sol (Malaga). This is a spectacular Thai temple where you can see more than 1,500 exotic butterflies from around the world flying in a tropical paradise filled with flowers and waterfalls.
The Benalmadena Butterfly Park opened in March 2011 and since then has received thousands of visitors with a special interest and questions about the different aspects of the butterflies. This park is actually a zoo but with the peculiarity that visitors are immersed in the habitat of the animals, not seeing them from the outside, as they are invited to share their space and observe the butterfly world from the front row. At this park, you can see how these wonderful insects are born, how they reproduce and learn many more things about them.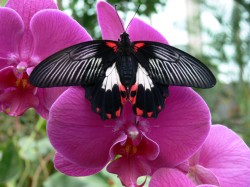 The main difficulty is to work with these insects whose life is just two weeks on average. Thereare between 1,500 and 2,000 butterflies flying around the park and because of its short life, this stock is continually renewed by breeding in the installation itself and by importing pupae mainly from the Philippines and Central America. Throughout the whole year in the park you can see over 100 different species of butterflies.
This tropical garden is not only a place to show the colorful butterflies, but is also a breeding center that offers the visitor the opportunity to witness the birth of new butterflies very closely, which is an unforgettable experience that culminates in the metamorphosis. The visitors can observe and understand the life cycle of the butterfly, which consists of four stages: egg, caterpillar, chrysalis and butterfly. This is one of the most complex processes in nature and is a unique opportunity to witness this here because, unfortunately, butterfly populations are disappearing dramatically in nature.
The park also offers a variety of flowers and plants of great beauty as each species of butterfly requires a specific plant to lay eggs on it. The plants that can be found in the park have been brought directly from their home countries (Bali, Costa Rica, Thailand…).