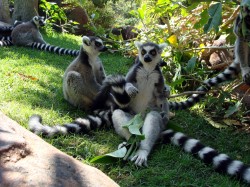 Bioparc Fuengirola is a new model of zoo based on respect for nature and the preservation of natural species. It is a different concept of zoo where animals live side-by-side, recreating their natural habitat and fostering their development at all levels. Visitors will get the experience of being inside a documentary on the typical tropical woodlands.
Bioparc is a different and more moral and ethical concept of zoo as it does not keep wild animals in captivity unless this helps to preserve their species in nature. It has also a peculiar architectural design that stands out and it gets visitors into the animal's native environment. You can stroll through the whole centre and all the surroundings are a recreation of the creature's original habitat. It will feel like you are walking through the woodlands while discovering their inhabitants.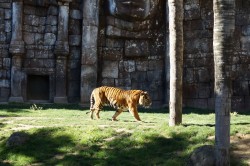 You can discover the wildlife of four different types of natural habitats, and each in its environment. These habitats are: Madagascar, Ecuatorial Africa, South-East Asia and Indo-Pacific. There are different types of visit that you can do for example a guided visit or a night tour around the park and you can even celebrate a birthday party there.
They have different services such as an area for kids with different activities, restaurants and a store. In the kids area there is a big park where they can play and relax while the parents can have a break having a coffee or a drink at the restaurant that has a big terrace. The restaurants and cafes are fantastic and different as they have an African or Asian theme.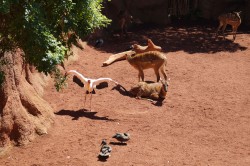 During the months of summer, July and August, they offer a tour of the rainforests at night time, where Sumatran tigers, Malaysians tapir, Pygmy Hippos and Komodo dragons surprise visitors in the forest. After the night tour, you can enjoy a candlelight dinner in the middle of the tropical jungle and, finally, watch a show with African music and dances. Also, do not forget to visit the lemurs on the island of Madagascar, where you can come into direct contact with them.
With all these different and unique activities, Bioparc Fuengirola, is a must visit place and a good plan for alternatives summer nights on the Costa del Sol.