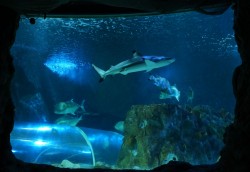 Sea Life in Benalmadena is a fantastic aquarium in the Costa del Sol where you can discover all the wonders and creatures of the undersea world.
Sea Life is an international chain of aquariums and water attractions with locations all around the world. All their centers are a fantastic family attraction with stunning marine habitants and displays. There is one centre located in Benalmadena, a famous spot of the Costa del Sol. This centre is located in a very nice area, right in the beautiful port side called Puerto Marina.
It is a fascinating interactive aquarium surrounded by 500,000 liters of water with over 2,000 creatures that inhabit the Mediterranean, Atlantic , Indian, Pacific oceans and Red Sea, not to mention also have the most representative species found in the Amazon.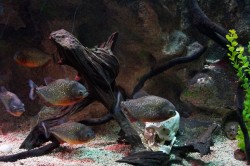 There are many things that you can do at Sea Life such as: watch feeding demonstrations, hold a crab and touch a starfish, see the more of two thousand creatures, watch sharks feeding, walk through the underwater tunnels and have a nice coffee with a view surrounded by sea.
Enjoy a unique experience by exploring all the wonders of the underwater world in Sea life with all your family. You can immerse yourself and discover from a closer view all the fascinating creatures that inhabit our oceans, from starfish to legendary sharks. By visiting Sea Life you will learn a lot of new things, facts and curiosities about the marine animal kingdom plus they also offer a set of activities for all ages based on the marine environment. It is a fantastic place to go with the kids as they have special quiz of questions and activities for them with prizes.
They are open daily and have special prices for big groups and usually there are different exhibitions that you can visit depending on dates. It is a fantastic place to visit for a day trip or a fun activity to do for a different weekend.