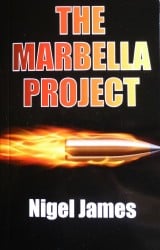 Author Nigel James, who divides his time between his homes in London and Marbella, has recently published his second novel, The Marbella Project, an action thriller set on the Costa del Sol. The book should appeal to anyone familiar with the area. Readers will recognise many of the locations where the action takes place.
When former SAS soldier Dan Green's son is brutally murdered by the Russian Mafia in Puerto Banus and the Spanish police seem powerless to act, he decides to take the law into his own hands. He recruits a former comrade. The two of them embark on a revenge mission as Dan vows to bring down the family which controls organised crime along the coast.
The bullets fly and the body count rises as Dan and his colleague attack the family and its interests while the family uses all its resources to track them down. 
Will Dan achieve his objective or will his luck run out as the two sides chase each other from Marbella to Moscow and London and then back to Marbella for the dramatic climax…
The book is available to purchase in Kindle or paperback format from Amazon.