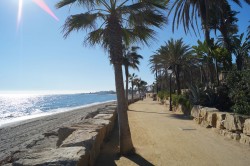 The works are being carried out from Las Chapas area to east Marbella, connecting the coastline by paths and bridges.
Marbella is one of the main cities part of the project that will connect the entire coastline of the province of Málaga through existing boardwalks, trails and paths of new construction. This is the Senda Litoral project, a challenge in the case of Marbella to connect the 27 kilometers of coastline. The mayor herself, Ángeles Muñoz, announced at the opening of the boulevard that precisely this was the next challenge, with a project in full progress, and the actions being implemented in phases to give way to a union that is increasingly close to reality. 
After and investment of ten million euros and seven years of work, the image of the coastline has transformed and improved making it a new tourist attraction. Even though, the promenade is not yet complete and the works are still being carried out being the aim to connect the whole coastline in the city within the next two years.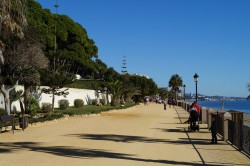 The first phase of the project was focused in the areas of San Pedro and Marbella and two wooden bridges were constructed. Now, the work is to connect La Bajadilla with Reo Real. There are few different stretches yet to be finished such as from Guadaiza river to Ventura del Mar or towards Las Chapas area.
The main obstacle of the project is to connect the entire coastline of Marbella at the breakwater Coral Beach, according to experts this will be the most difficult stretch to complete but they have provided some technical solutions for this.
Little by little, the works have progressed and today we count with one of the best promenade walks that have been improved with better appearance and the remodeling of the terraces of the Leisure Port. Soon enough, the goal of connecting the seafront promenade of Marbella to the neighbors towns of Mijas and Estepona will be a reality.