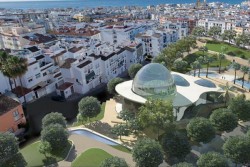 Estepona sets the dome of the future botanical park. The entire project will be inaugurated in March.
Estepona Town Hall has installed recently the main dome of the future Green Lung-Botanical Park, which will become one of the highest in Spain to reach 30 meters. The dome structure that has now been placed on sheet steel and exceeds 12 tones, as reported by the Councillor for Public Works, Infrastructure and Tourism, Ana Velasco. In the coming days they will proceed to its coating with glass, so the dome will exceed 50 tons when fully executed. 
The mayor made a point to stand out the work done by technicians and operators, because for more than two hours they worked with exquisite precision to transfer and assembly the half-sphere dome. It also has advanced to immediately proceed to the installation of the other two domes that will become the hallmarks of this innovative building. Specifically, these will reach 15 meters high and 9, respectively.
Velasco added that the main dome that was just installed will be consolidated as one of the main attractions of the building, which will house thousands of species of orchids and surprise visitors that will see this from the interior. She also informed that the works on the future Green Lung- Botanical Park are executed in 75 percent, so it is meeting the original schedule and will be opened during the month of March.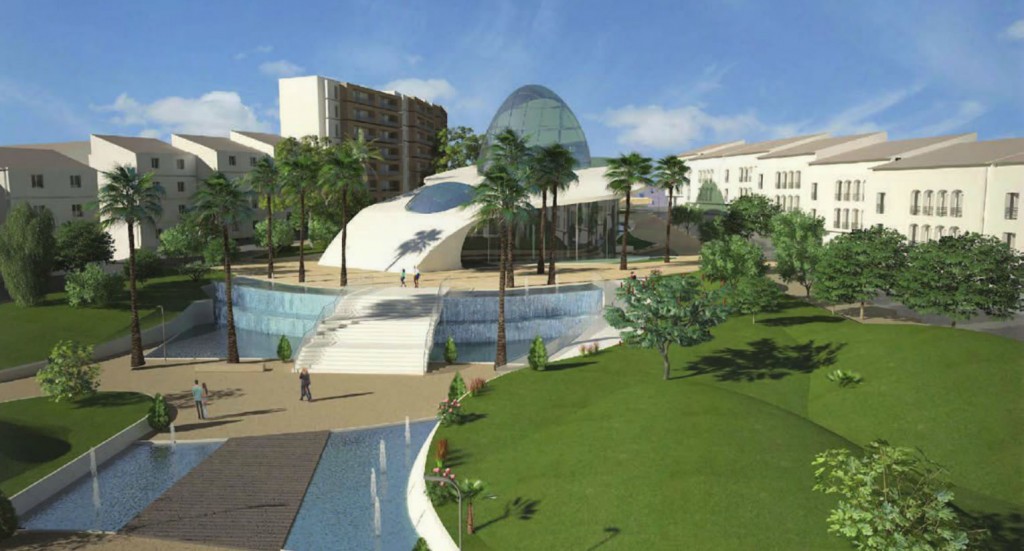 This futuristic modern building will also have a cascade of 17 meters high that will help simulate the originating locations of orchids. To recreate the natural habitats of orchids, this building will be divided into two distinct areas. Thus, one space will be dedicated to species of America and a second environment where plants and orchids of Asian origin will be enabled.
The councilman of Development noted that the building of 1,000 square meters and 15,000 square meters in volume, will become and mark a continuation of 'Estepona, Garden Costa del Sol' project, which has already remolded and improved 60 streets of the Old Town of Estepona.