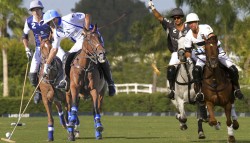 The polo club of Sotogrande is now one of the most prestigious in the world according to the new ranking done by The World Polo Tour.
Sotogrande, in southern Spain, located near the town of San Roque in Cadiz, is today one of the most prestigious and luxury residential areas in Europe and since 1965 when the first polo field was built, Santa Maria Polo Club has successfully conducted hundreds of tournaments.
Santa Maria Polo Club has been gaining ground since its beginning and counts now with nine fields and is also one of the best clubs in the world. They also have facilities dedicated to hospitality and events of different kinds such as weddings, company meetings or corporate events. The club counts with many important brands that have committed to the club events such as Lexus, Cartier, Loewe, Louis Vuitton, BMW, Vodafone, Land Rover or Bacardi to name a few. 
Every year the best national and international players compete in these fields, which host more than 25 tournaments per year during the two main polo seasons which are the spring season and the summer season. These tournaments are the most exclusive sporting event in Spain and worldwide. Some of the most important ones are The Gold Cup of Sotogrande or The Silver Cup.
Recently, the Wolrd Polo Tour authorities have named Santa Maria Polo Club among the best clubs in the world thanks to the recognition in the new ranking. This confirms the excellence of the club and its world class pitches. Thanks to this, the club can even host more tournaments per year during the months of summer.
Every year, numerous countries are represented in the teams that play these tournaments. The international aspect of these events have a major impact and benefits the economy of Andalucia and Gibraltar. The regional government has also declared Santa Maria Polo Club as a site of Tourist Interest.