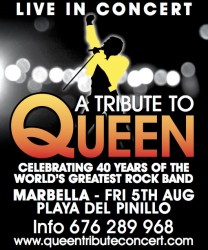 Queen is still one of the greatest rock bands of our time. Who would have thought that Queen together with Freddy Mercury had their last-ever European concert in Marbella? The concert was on the 5th August 1986 to 25,000 people in Marbella's football stadium. That's why Marbella will once again rock to the sound of Queen's greatest hits, exactly 25 years later, on Friday 5th August 2011 with a Queen tribute concert. Responsible for this big show is Dream Ticket Promotions, the team that brought you the sell-out Björn again ABBA show last year, now in partnership with Marbella Town Hall and supported by Hard Rock Café. The show is called "One night of Queen" and is performed by Gary Mullen & The Works.
The concert will take place under the stars at the stunning new beachside Recinto de Conciertos arena at Playa del Pinillo in Marbella near the Marbella Arch, a fantastic space available for a select few concerts this summer. On the night there will be five bars, several food vendors including popcorn, ice cream, burgers & hot dogs and plenty of toilets. There is parking in the local streets around the venue. 
Over the past 10 years Gary Mullen & The Works have played sold-out concerts all over the world, including 45,000 fans at the iconic Hyde Park in London. Even Queen guitarist Brian May and drummer Roger Taylor are reported to be fans quoted as saying, "This is the only show we recommend to our fans." Now for the first time, their incredibly accurate performances of Queen's timeless anthems will get Marbella rocking. They are the most successful and highly regarded Queen tribute band in the world, with perfect recreations of the songs, the showmanship and the light show – you will never see a more accurate performance of a Queen concert!
2011 marks 40 years since the legendary rock band Queen formed in 1971 and 20 years since the sad passing of their phenomenal and flamboyant singer Freddie Mercury who remains an icon beyond measure. These milestones in musical history are being celebrated around the globe with album releases, documentaries, exhibitions and a movie, re-igniting interest in the band's musical legacy once again.
The concert will see a few special guests, such as international soprano Ruth Kerr who will be joining Gary Mullen & The Works on stage to sing the unforgettable classic "Barcelona" sung originally by Freddie Mercury and Montserrat Caballé, in a rendition put together especially for this concert. Plus Ruth Lorenzo. She stole the show when she performed in Marbella last year, enthralling the crowd with her breathtaking voice, unbridled Spanish passion and stunning stage presence. This year the 2008 "X Factor" finalist has put together a special set of rock classics to fit with the theme of the night and open the show with a bang!
Tickets for this amazing concert are priced from just €30 for standing, €40 for general seating, €70 for premium seating (subject to booking fees). Tickets are available from El Corte Inglés stores, FNAC in La Cañada and online www.ticketmaster.es and www.elcorteingles.es or by calling 676 289 968. Get more info here.