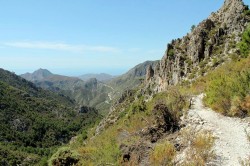 Say Spain and we think of beaches and blue sea sparkling in the Mediterranean sun. And that is Spain, but not all of it. Spain is also a great country for a walking holiday and a chance to explore some of the white villages in the hillsides.
Walking
To be convinced that Spain is a good destination for walkers, take a bus from any of the towns along the Costa del Sol coast and head for the hills. The morning bus from Nerja, about fifty minutes east of Malaga, is often full.  There are people going to work in hotels out of town and sightseers who are going to while away a few hours in the stunning Andalusian white village of Frigliana. But there are also people with rucksacks and boots and walking poles, who have plans for a different kind of day. They may be walking back to the coast or heading up into the hills. There are walks from the village down along the river valley to the coast, others along the maze of tracks between the small holdings where tomatoes, figs and olives are grown and yet more walks up into the hills. From some points on these tracks, if the walkers turn round to face the sea, they may get a view of the Mediterranean shimmering far below.
Along lanes that rise into the hills there are derelict finca, small farmhouses, some abandoned to the trees that have rooted themselves in the ruins and other being rebuilt. On a walk from Frigliana there is even a village which was once deserted, abandoned by the people who lived there in the 1950s, but is now being restored. On the walls of the bar in the rebuilt El Acebuchal are photographs showing the people who lived there in the past. It's a great way to see something of the history of southern Spain. For something different again, Real Gap offer holidays to Spain, giving an opportunity to experience something new.
Besides the crops which are grown in abundance in Spain, many wild flowers, often sweetly scented, will be seen along the way. Depending on the time of year, these include lavender, broom, sage, convolvulus, honeysuckle and daisies. In spring hillsides will be a blaze of blossom from trees such as the almond.
Carrying food and drink on a day's walk is necessary, but hopefully there will also be the opportunity to stop at a bar, have a rest and drink a beer or juice and sample some of the food made from local produce.
Maps and Transport
Maps are available in Spain but are not as detailed as Ordnance Survey maps and routes not as well marked as in the UK, but there are books written by walkers giving ideas for walks and with care it is possible to have some lovely days out in the hills. There are also guided walks which can be a good way of starting to get to know an area. To get to some of these walks, there are local buses, both cheap and reliable. If walks are to be completed from places not served by buses, then there are many companies along the coast who hire cars.
Taking a walk inland can be a surprise and will almost always be inspiring as a different view is opened up. It's a fantastic way of seeing something more of Spain.
AUTHOR BIO
Peter Smith has written travel articles for several websites and blogs. He has had many walking holidays in Spain and also with Real Gap.