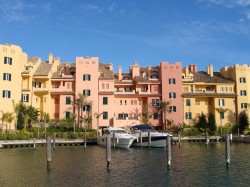 The British economy and housing markets weren't the only victims of the global recession. Spain also suffered with house prices dropping from their high in 2007.
The Costa del Sol, however, is always going to be popular for tourists and migrants seeking to set up home there, due to its warm all-year-round climate, multitude of golf courses, fantastic beaches and amazing countryside.
In fact, the Spanish government estimates that more than one million foreigners will buy a property at the Spanish coast, or move there, within the next six years. By the year 2025, this figure is expected to treble. It's fair to assume many of them will be moving to the Costa del Sol and so ensure a continuing demand for property.
The Costa del Sol is still considered a prime investment area, due to its popularity as a tourist destination. Prices remain relatively high here compared to most other parts of Spain, but due to continuing demand there is huge potential for long term growth.
Despite these higher prices, property on the Costa del Sol is still often much cheaper to buy than in the UK, allowing people to afford a second home, or retire early to the sun.
The buoyant rental market also makes the Costa del Sol an attractive place to invest. Many tourists want to stay in self-catering accommodation and it could be possible to rent out your property for half of the year to cover the costs and have it for your own use the rest of the time.
Whilst the Costa del Sol has long been a great place for older people to buy, it's also now proving attractive to young investors priced out of the property market in the UK. With prices at home too high for young people to get a foot on the housing ladder, a sound property investment on the Costa del Sol offers the chance to do just that. This continuing trend is another factor which should help values there to continue to grow.
Buying off-plan can be a shrewd way to secure a property and is very popular on the Costa del Sol. The main advantage is that a discount of between 10% and 30% off the current market price of a comparable property should be on offer, to compensate the buyer for the risks they are potentially taking. In addition, developers may include attractive financial benefits such as rental guarantees for a certain period of time.
As a general rule Spanish property experts recommend British buyers searching for their place in the sun to look at the Costa del Sol's established, popular areas. These will maintain and grow their value, whichever way you decide to conduct your purchase.
Picking the right property in the right location could be your key to a fabulous long-term investment on the Costa del Sol and property for sale in Andalucia has comprehensive information about the area, the housing market and properties for sale.