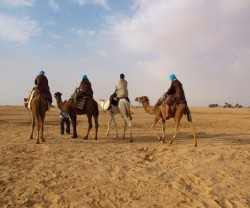 Costa Singles is the birth of a new and unique meeting place for all singles on the Costa del Sol. Costa Singles starts off with an amazing opportunity to journey through the heart of the Sahara. The "Crossing the Sahara 2010" is a week long expedition to the bowels of the Sahara desert in Morocco, taking participants to a unique site, surrounded by breath taking, natural beauty.
The expedition starts in Marrakesh and goes into the deep desert of Morroco. The desert is a wonderful place to share the experiences of reflecting on a million star sky, touring a sea of dunes or living with natives of the area. The "Crossing the Sahara 2010" will take place from the 6th to 13th of November. Places are limited so anyone interested in participating in this event should make their reservations promptly.
The trip begins in Marrakech on Saturday 6th of November 2010 with the Airport-Transfer to the hotel in Marrakech and a visit to the Medina. On Sunday the trip will begin early in the morning and will cross the Atlas Mountains at the Tizi'n Tihcka. On the way to Tinerhir, where you will spend the night you will visit the Todra gulch. On Monday morning the trip continues in the direction of Alnif, a miraculous journey through an authentic desert. It passes through Maharch and arrives at a lovely small hotel in Ouzina, where you will remain till Friday. Several short trip possibilities in the surroundings will be offered during these days and are already included. Then on Friday you will travel through Merzouga, Rissani, Quarzazate back to Marrakech. In total a very long, but extremely beautiful journey.
The price is 850 Euro per person and includes Airport Transfers, Transport in 4×4 Toyota Jeeps with Chauffeur/guide on the whole trip, daily excursions in the desert, 2 overnight stays at the hotel in Marrakech, breakfast included and 5 overnight stays at the hotel in the desert, all inclusive.
For more details on "Crossing the Sahara 2010" organized by Costa Singles visit costasinglesenglish.wordpress.com or contact costa.singles@live.com