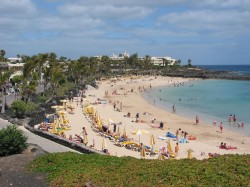 Tourism in Spain this year is really looking up, with the country set to achieve the predicted 2.5 per cent target increase in bookings this year. This means that 8 out of 10 hotels on the coast will be 90% full this August. This increase will represent about 400,000 more tourists coming into the area, between 395,000 and 474,000. This is in comparison to the summer of 2010, when there were 15.8 million tourists.
Most of the tourism boost was expected to occur in July, rather than this August and the coming September, however, official figures have not yet been made public. These predictions for a "significant improvement" in July were supported by forecasts made of an increased number of flights into Andalucia's airports by many different companies, as well as the airport authority AENA. In total, it represents an increase of 1.8 percent over the previous year. 
At the moment, the economic situation is putting a dampener on things for the Spanish tourists, as many are reluctant to book holidays in advance or spend too much money. The majority only tend to book (on average) a three days holiday, and it's all done at the very last minute to get the best possible price. On the other hand, foreigners tend to book substantially longer holidays and also seem more open to spending money.
A common view among businesses in Andalucia is that there will be an improvement in the UK market, which currently provides the largest influx of visitors to the region. "The market is definitely recovering," the Tourism, Trade and Sport Minister, Luciano Alonso was quoted as saying last month. He also went on to say that foreign arrivals to Andalusia have grown from January to May 2011 by 5.4 percent. Of that increase the British market has increased by 4.4 percent, Germany's 1.5 percent and France 6.3 percent.