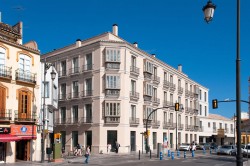 The Vincci Selección Posada del Patio 5 * is a newly built hotel with the quality and avant-garde style characteristic of Vincci Hotels. Located in the historic center of Malaga. With quick and easy access to all points of interest throughout Malaga city. This is the only one of the hotels in Malaga from which you can see part of the ancient Roman city wall.
It is built on a spot corresponding to two older buildings, one of which was one of the last inns existing in Malaga and the other was a residential building in which it has respected the facade of the early twentieth century. It has been completely rebuilt, respecting the "patio" that gave it its name and an old hallway that corresponded to the entrance from Camas street.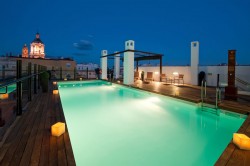 Under both buildings they have been found the remains of the Arab wall of Malaga, along with the remains of the old river gate. It is the best preserved stretch of the Arab wall and the only one that can be visited on both sides and where you can stroll using the old path running around the city. Along with the remains of the wall, also they found remains of a former tannery and various utensils that are on display in the hotel. Crossing the Arab wall, it has also been discovered ancient Roman city wall and next to it is located the old breakwater of the Roman port, which gives an idea of ??the situation of the coast at that time. This section of wall can be visited from the hotel.
Apart from all the history behind this hotel, Vincci Posada del Patio offers excellent service that includes coffee bars, parking service, gym, library room, gluten free breakfast, meeting rooms, laundry and dry cleaning, currency exchange, car and bicycle rentals, tours information and massages and babysitting services on request amongst others.
The Restaurant "Le Diner" is one of the best in Malaga offering Spanish cuisine with a sophisticated touch.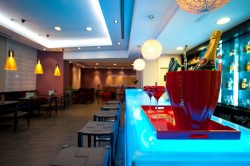 The "Wall Bar" is a sophisticated lounge with nice atmosphere where you can relax in the comfortable chairs or couches and enjoy the attentive service with an excellent menu of teas, coffees and the best cocktails. The floor is made of glass and through it you can see the old arab and romans ruins of the city.
The restaurant also hosts various events throughout the year, and every Friday are jazz nights in the Wall Bar.
Posada del Patio has a magnificent swimming pool that looks more like a small oasis in the center of Malaga with the best views of the city, where you can relax in a calmed atmosphere enjoying the sunset with amazing views.