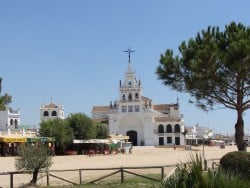 The Rocío Pilgrimage is a religious festival dedicated to the Virgen del Rocío. It has undergone some changes to adapt to the needs of the moment, but its essence remains the same.
The Romeria of El Rocio is a procession or pilgrimage that takes place in honor of the Virgin of El Rocio in the countryside of Almonte, pronvince of Huelva (Andalusia) during the second day of the Pentecost, which in 2015 will be the night from 24th to 25th of May. This tradition dates from 1653 and in the last years is becoming increasingly popular and attracts thousands and hundreds of pilgrims each year.
Traditionally the "romeria" (pilgrimage) beings on Sunday before Pentecost, but the pilgrims that come throughout Andalusia and other places of Spain and even internationally, usually travel one to seven days beforehand on foot or on horseback or horse carriages, as they count this travel as the most important part of the pilgrimage.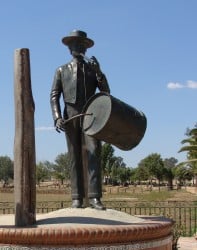 The Confraternities are the different religious groups of travelers that come from different places and towns and the real pilgrimage begins on Saturday eve of Pentecost, at midnight, with the presentation of the Subsidiaries Brotherhoods in strict order of seniority at the doors of the sanctuary, where a large representation of the fraternity of Almonte is received: its president, Big Brother and the Mayor of the town. This colorful, emotional and solemn parade while impregnated with dust and sweat and faith, is perhaps one of the most spectacular moments of the pilgrimage.
Well into the night and the most recent Fraternities put the finishing touch to this human caravan as exodus that want to pay homage to the Mother of God. The next day, Pentecost Sunday, at ten o'clock, at a place called the Real del Rocío and at the monument takes place the Eucharist Pontifical Mass. This place becomes a Temple which houses the silent prayer, crying content, singing and silence and the Word of God.
Finished the celebration, a sea of pennants, banners and scripts are scattered throughout the streets of the village to their homes of brotherhood. Coexistence, joy and brotherhood are not lacking in that morning of Pentecost. On Sunday night the Rosary takes place on the esplanade of "The Eucaliptal" with thousands of pilgrims.
The pilgrims usually wear traditional Andalusian folkloric costumes such as flamenco dresses for women and short jackets and riding tight pants for men. All of this makes El Rocio is a unique experience that mixes religious devotion and tradition and local festive colorful atmosphere.