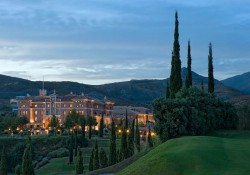 The Hotel Villa Padierna Palace which is located in the municipality of Benahavis, between Marbella and Estepona is the first hotel in Spain to have obtained the qualification of six stars from the New York based company Seven Stars and Stripes. This organisation categorises hotels according to the value of their guest service and the quality of facilities, independently of the country they are located in. The valuation is carried out by an incognito inspector before, during and after awarding the sixth star, to ensure service is of the required standard.
In case of Villa Padierna Palace Hotel, are rated also complementary services, such as its three golf courses, the golf school, the design of the hotel, the SPA, the navigation service on ships of the hotel, where you can go sailing or fishing, or go hunting at a farm owned by the hotel. All this are serviced that are worth a sixth star that you don't fin in any other hotel.
Every year this hotel houses outstanding personalities from business, politics or finance, such as Michelle Obama, who visited the hotel with her daughter in summer 2010.
In Spain the sixth star does not exist officially, as the maximum is five stars, but the sixth star still represents best quality for the Villa Padierna Palace Hotel.