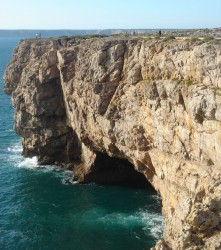 If you are living in South Spain especially on the Costa del Sol you will ask yourself many times where to go for your summer and beach holidays. The Costa del Sol is already the perfect spot for beach holidays, so where do you go? A nice alternative is Portugal and the Algarve. The weather is pretty much the same like in Malaga or Marbella and the beaches are very nice. Portugal has a total of 850 kilometers of beach and the Algarve has probably the best beaches in Portugal, most of them with golden sand. The Algarve is most famous for its spectacular Mediterranean beaches. Well know places e.g. destinations like Albufeira, Faro, and Lagos. The best beaches of Algarve include Praia da Luz and near Lagos, Meia Praia and Praia de Tavira in Albufeira.
If you want to see more than just the tourist locations you need to go to the South West coast of the Algarve where you will get a better insight into the culture and traditions of Portugal and a spectacular natural scenery. If you are into Golf , Algarve is also home to one of the best golf courses in Europe – the Vilamoura Golf course.
What makes the Algarve actually different from many other beaches in Europe are the amazing cliffs all over the coast ad the views over the Mediterranean.